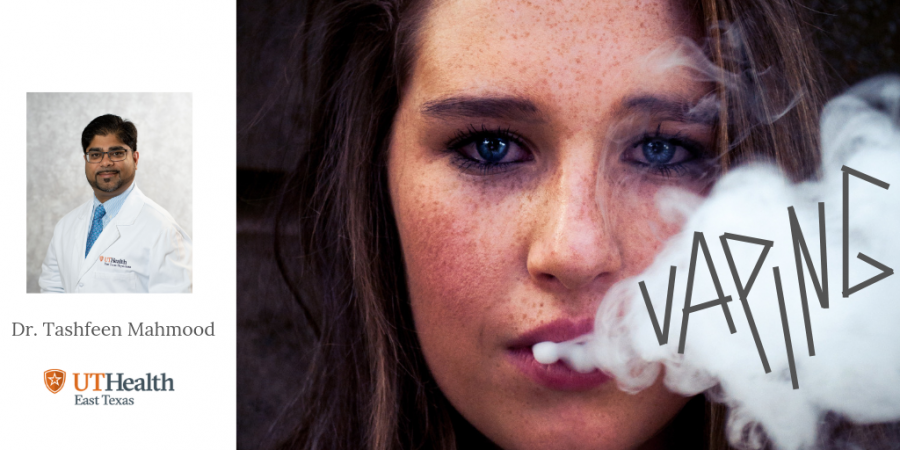 Vaping and e-cigarettes have been in the news more and more these past several years, so you've probably heard and seen a lot about it. Most recently, Tyler's City Council banned the use of e-cigarettes in public spaces, mimicking restraints put on conventional cigarettes. The biggest issue is that this habit-forming activity is being most used by teenagers. So what are the dangers of vaping? Dr. Tashfeen Mahmood, pulmonologist at UT Health East Texas, is here to help clear the air by bringing you up to speed.
The Dramatic Effects on Teenagers
One of the biggest demographics that uses e-cigarettes is teenagers. "Since the availability of e-cigarettes over the last decade has gone up, we have seen a very sharp increase in its use among middle and high school teenagers," says Dr. Mahmood. "The tremendous rise may be due to the dangerous trend in flavoring e-cigarettes." Unlike conventional cigarettes, which are banned from adding flavors, e-cigarettes offer varieties like mango and crème brule. The enticing taste and lack of smoke may make it seem like a harmless activity, but these products still contain the very addictive substance of nicotine.
"Nicotine is one of the most addicting substances out there and by allowing e-cigarettes, we are promoting a culture of normalizing smoking behavior," says Dr. Mahmood. The normalization of smoking becomes a problem because it leads to worse behaviors, as explained by Dr. Mahmood. "E-cigarettes use in teens almost always precedes conventional cigarette use, as noted from observational studies. This is due to the very high risk of nicotine dependency. Meaning, teens who use e-cigarettes will likely follow up with smoking combustible cigarettes." However, one of the most troubling effects this habit can have on this demographic has to do with brain development.
Dr. Mahmood explains that nicotine can affect the connections (synapses) development, which is a process that is very active in this age group and necessary for learning and memorization. "The brain develops till age 25, therefore nicotine can have more damaging effect on a teenager's brain than an adult's brain," says Dr. Mahmood. "The lung functions are also on the rise during this age and vaping, especially flavored vaping, can have drastic effects on lungs and predispose that user to diseases like chronic bronchitis and COPD."
Long-Term Problems
Inhaling conventional cigarette smoke contains carcinogens that damage the lungs' tissues, which can lead to lung cancer. Because e-cigarettes release water vapor, many believe it's safe to use. While it is true that e-cigarettes contain less chemicals than conventional cigarettes, there are still potentially damaging substances released. "We do not know much about long term health risks associated with vaping or e-cigarettes, especially carcinogenic effects from cancer-causing compounds in e-cigarettes," says Dr. Mahmood. "The amount of these substances vaped is variable based upon use and quantity, which is not regulated. Also, some of the chemicals in the flavors are very harmful at cellular levels and are respiratory irritants."
How Adults Use Vaping
Outside of teenage users, there are many adults that use e-cigarettes as a method to ease out of cigarettes. Many e-cigarette companies claim that this group is their core demographic. However, there is not much evidence to prove that this is an effective method for smoking cessation. "Alternate FDA approved medicines should be tried in such cases after consultation with your health care provider," advises Dr. Mahmood.
[Read more about smoking cessation.]
Parents Taking Action
Parents should make an effort to notice if their child has started using e-cigarettes. It may be more difficult to detect than if they had started smoking conventional cigarettes since there is no distinct "smoke smell" that lingers on clothes or hair. The devices can also look very benign, appearing to be a normal USB drive.
If you suspect your child of vaping or know they have tried it, it's good to be clear about the dangers. "Parents need to speak with their children about the health issues related to vaping," suggests Dr. Mahmood. "Have them talk to their medical care provider, as things coming from a medical professional are taken more seriously."
[For more information on how teens can quit, visit https://teen.smokefree.gov/]
The Final Word
Dr. Mahmood: Vaping is not safe at all and can direct a teen to actual tobacco use as it is very addicting. It can have horrible adverse effects on your brain, lungs and cardiovascular systems.
If you or someone you know uses e-cigarettes, reach out to a physician to learn more and start a plan to quit.
---
Tashfeen Mahmood, MBBS, MD, is a pulmonologist at UT Health North Campus Tyler. "My philosophy is to take care of my patients in a way that they understand each and every aspect of their disease process, are involved in every part of decision making and have easy, prompt access to the resources available to overcome hurdles in their health management."
He learned from an early age that he wanted to become a doctor. "Growing up, I used to visit my uncle's clinic and saw how dedicated he was to his profession. The sense of satisfaction and joy on his and his patients' faces was unmatched."
He is fluent in English, Urdu, Punjabi and Hindi.