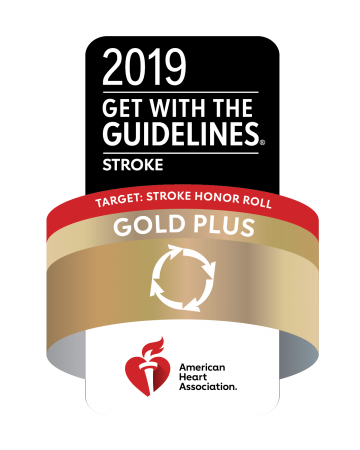 Tyler, TX (July 11, 2019) UT Health Tyler has received the Get With The Guidelines®-Stroke Gold Plus Quality Achievement Award from the American Heart Association and American Stroke Association for its continued success in using national stroke treatment guidelines when treating patients.
"We are very pleased to receive this award," said Brian Brennan, vice president with the UT Health East Texas Neurological Institute. "UT Health Tyler recognized many years ago when we became a certified primary stroke center how important it is to have the best possible treatment protocols in place for these types of patients."
"Hospitals receiving Get With The Guidelines® Gold Plus Achievement Award have reached an aggressive goal of treating patients with 85 percent or higher compliance to core standard levels of care as outlined by the American Heart Association/American Stroke Association® for 2 consecutive calendar years. In addition, those hospitals have demonstrated 75 percent compliance to (four out of ten heart failure quality measures or seven out of ten stroke quality measures) during the 12-month period."
UT Health Tyler is an Advanced Primary Stroke Center. The stroke center designation was granted by the Joint Commission on Accreditation of Healthcare Organizations with a Gold Seal of Approval.™
Stroke symptoms
A stroke is an interruption of the flow of blood to the brain.
Symptoms of a stroke include:
Sudden numbness or weakness of the face, arm or leg; especially one side of the body.
Sudden confusion or trouble speaking or understanding speech.
Sudden trouble seeing in one or both eyes.
Sudden trouble walking, dizziness, or loss of balance or coordination.
Sudden severe headache with no known cause.
You should call 9-1-1 immediately if any of these symptoms occur.
Mobile app alerts the stroke team
UT Health Tyler uses mobile technology to quickly activate its neurointerventional team to allow for faster care for stroke patients.
"UT Health Tyler offers interventional neuroradiology treatment 24 hours a day, seven days a week with a special stroke team in place," said Brennan. "The mobile app called Pulsara allows EMS to transmit to the hospital medical information about the patient from the field, including vital signs and symptoms. It also alerts the care teams for stroke that a patient is arriving at the hospital."
The mobile app is also used to activate the cardiovascular team for ST-Elevation Myocardial Infarction (STEMI) patients. STEMI is a serious type of heart attack during which one of the heart's major arteries is blocked.
"Patients suffering from an ischemic stroke need to receive tissue plasminogen activator (TPA) within a few hours of having a stroke to help dissolve the clot and improve blood flow to the brain," said Lisa Hutchison, stroke coordinator. "Ischemic strokes account for 87 percent of cases, and when the treatment is promptly administered, it can save lives and reduce the long-term effects of stroke."
Stroke is the No. 5 cause of death and a leading cause of adult disability in the United States, according to the American Heart Association/American Stroke Association. On average, someone suffers a stroke every 40 seconds; someone dies of a stroke every four minutes; and 795,000 people suffer a new or recurrent stroke each year.