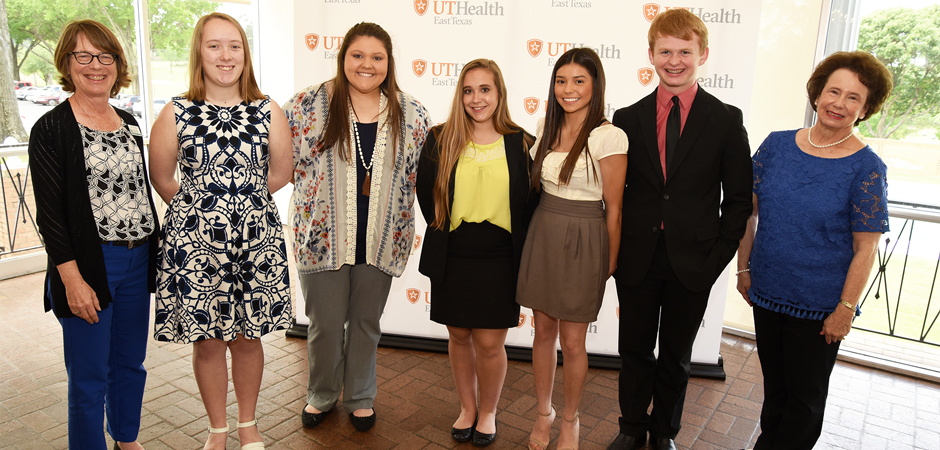 Tyler, TX (April 18, 2018) UT Health Tyler honored its volunteers with a recognition luncheon at Willow Brook Country Club Wednesday, April 18, as part of national hospital volunteer week. With the theme of "Volunteers Make Each Day Brighter," the event featured Moody Chisholm, president/CEO of UT Health East Texas as the keynote speaker.
"Volunteers are such an important part of our hospital system," noted Chisholm. "They provide a tremendous contribution to our patients and we are so glad they give their time to assist others."
The 132 adult, college and junior volunteers contributed 16,500 hours of service to the hospital in 2017-a gift of time and talents valued at more than $414,673. Volunteers assist in several different areas of the hospital including admitting, front desk, lab, breast center, gift shop and Therapet visitations.
"Our volunteer team consists of everyone from high school students to our oldest volunteer who will be 100 years old this year," said Joyce Brown, director of volunteer services. "Our volunteers bring energy, happiness and compassion and share this with our patients, visitors and family members."
Adult volunteers receive bars for how many hours of service they have contributed since starting their service. The volunteers with the most hours include Carole Lybrand with over 17,000 hours; Dottie Buie with over 12,000 hours; Beck Roosth and Vaneece Smith with over 8,000 hours; Vennie Jackson with over 7,000 hours; and Mike Bragg, Mac Norman and Annette Whitt with over 5,000 hours.
The program also included the presentation of the junior volunteer scholarships. Each student received a $1,000 scholarship to assist in their college studies and a career in healthcare. This year's high school scholarship recipients are the following graduating seniors: Delaney Folmar, Bullard High School; Natalie Henderson, Whitehouse High School; Kacey Jennings, Tyler Lee High School; Yazmine Martinez, Chapel Hill High School; and Cody Olson, Tyler Lee High School.
For more information on volunteer programs, please call 903-531-8199.
###