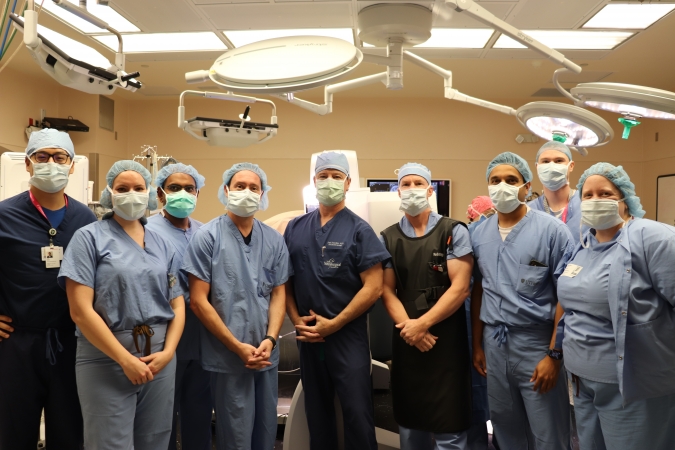 As neurosurgeon Paul Detwiler, MD, stood behind the patient, having just inserted an electrode in his brain, neurologist George Plotkin, PhD, MD, told the patient he was going to hand him a cup of coffee to hold. 
The patient, who had suffered from essential tremors so intense he hadn't been able to sign his name in years, objected. 
"He said, 'I wouldn't do that, I can't hold a mug of coffee,' but Plotkin handed it to him and there was no movement at all. I'm watching the patient and he can't believe it," Dr. Detwiler said. "He had a phenomenal response."
The patient's response was the result of deep brain stimulation delivered through an electrode Detwiler had placed in his brain, confirming it was in the exact right spot with the help of Brainlab's Loop-X, a fully robotic intraoperative imaging device.
According to Brainlab, UT Health Tyler was the first hospital in the United States to use the Loop-X technology on a DBS case, and the first hospital in the world to use Loop-X on a patient who was awake during surgery. The company said UT Health Tyler is also the first U.S. hospital to perform an active spine case with Brainlab's complete robotic suite.
The advanced Brainlab surgical workflow includes high resolution robotic imaging with Loop-X mobile imaging robot, data processing and precise guidance with Curve Navigation, and automatic, stable surgical support with the Robotic Alignment Module for the Cirq Arm System. Each of these technologies can be used on their own, but the synchronized use of the three products can offer steady, unified and uninterrupted support during surgical procedures.
UT Health East Texas moved forward with the significant investment in the Brainlab surgical suite to provide physicians cutting-edge technology that allows them to give patients the highest quality care. 
"When it comes to patient safety and patient outcomes, we strive to offer high quality care close to home," said Donald Baker, regional president of UT Health East Texas. "Patients don't have to travel to Houston or Dallas because we're able to provide cutting-edge technology and first-class care right here in East Texas." 
Taylor Moss, marketing manager with Brainlab, said the Loop-X technology allows surgeons to perform complex cases with consistent and accurate outcomes. 
Brainlab's technology is used for a variety of procedures, including spine, thoracic and brain surgeries. The Loop-X provides 3D imaging in the operating room, meaning the physician has access to more detailed information in real-time. Previously, if a patient was undergoing spine surgery, the surgeon would place the screws and the patient was taken for a CT scan the following day to ensure the screws were in the right position. Now, with Loop-X, the surgeon can get that confirmation in the operating room and make any necessary adjustments immediately rather than having to take the patient back into surgery the following day if the CT scan had revealed a revision was needed. 
"It adds to the consistency and quality of care. If you have to wait until the next day to take the scan, you're adding on unnecessary time and potentially bringing the patient back into the operating room," Moss said. "If any adjustments need to be made, they can be done right then and there without adding any time, thus avoiding later revision surgery."
Detwiler said that has been his experience in using the technology on his patients.
"There are huge advantages to Loop-X. "There is that you've got that real-time navigation while you're doing the surgery and putting the hardware in," Detwiler said, "and then at the end, whether it be electrodes or screws, you're able to come in and immediately do a scan and know everything is where you want it to be."