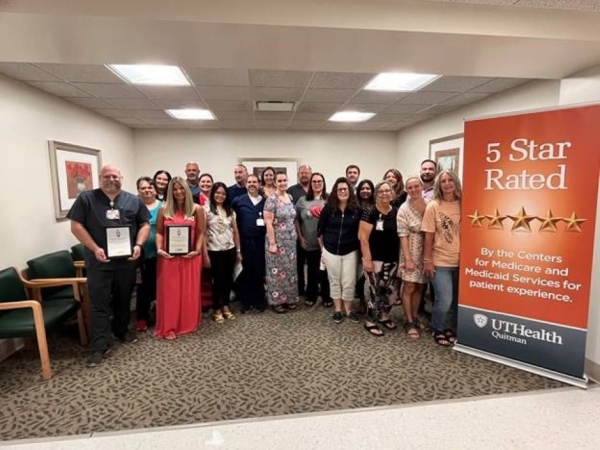 The UT Health Quitman nursing staff recently was honored with a DAISY Team Award, which recognizes that while an idea to achieve better patient and family outcomes may start with one individual, it often takes an entire team to implement successfully. 
The DAISY Team Award is designed to honor collaboration by two or more people, led by a nurse, who identify and meet patient and/or patient family needs by going above and beyond the traditional role of nursing. Patient care teams including ancillary staff involved with care were recognized with this nomination, which came from a patient who was brought to UT Health Quitman by ambulance with her two toddlers. 
"The ER and other staff took care of my children as if they were their own. They provided activities and meals when my children were hungry," the patient wrote in her nomination. "They also provided warm blankets to them as well as myself. They were swift, professional and empathetic."
"I would like to thank all of the staff in the ER and med/surg floor for everything that you all did for me. I felt as if I was surrounded by family with all the special care that I received," the nomination continued. "It was very apparent that you all wanted me to heal physically, emotionally and mentally. I can't thank you all enough for truly caring about my comfort and overall well-being." 
UT Health Quitman CEO Jared Smith said the hospital's staff is like a big family, so it came as no surprise that the patient felt that warm embrace in the care she received. 
"This Team DAISY Award is a testament to the fact that our employees are living out our mission of caring for our patients, their families and each other," Smith said. "We deliver compassionate, high-quality care on a daily basis, and we are extremely grateful to be recognized for that level of care with this award."