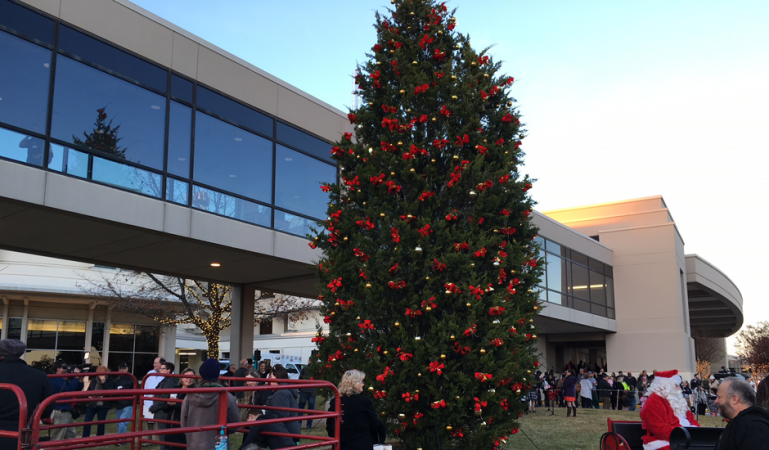 Tyler, Texas (November 26, 2019) Fewer than two years ago, Shawn Gonter was a trauma patient at UT Health Tyler after a serious motorcycle accident. Gonter now works for UT Health as a physician assistant, and on Dec. 3 he will have the honor of lighting the hospital's outdoor Christmas tree during a public ceremony.
The event will begin at 5 p.m. when Santa arrives in his sleigh, with live reindeer, on the hospital's front lawn. The tree-lighting ceremony is set to begin at 5:20 p.m. with Gonter illuminating the tree, carrying on a 31-year tradition of former patients lighting the tree. There also will be refreshments and Christmas carols performed by the Moore Middle School sixth-grade choir. Santa will be at the event until 6:30 p.m. and free parking is available in both parking garages. Gates open at 4:30 p.m.
Gonter was in a motorcycle accident at Troup Highway and Magnolia Drive in March 2018 that resulted in multiple injuries, including a broken back and the amputation of his right leg. He was at UT Health Tyler for a month following the accident.
"You don't realize how many people take care of you," Gonter said. "Every department is able to touch each person as they come in, and you don't realize it. You just see your nurse and your doctor and that's about it, but there's a lot of people behind the scenes doing their jobs to get you better."
Gonter isn't a stranger to the medical profession or the Tyler hospital. He has worked as a physician assistant for almost 30 years, including a previous stint at the Tyler hospital before rejoining the staff earlier this year as a PA at the UT Health East Texas Orthopedic Institute.
"When he arrived I feel like almost half the staff recognized him as a long-term employee of this facility," trauma surgeon Jason Murry said. "He was awake and talking to us, but had an obvious major injury to the lower extremity and we were able to work him up really quickly." Murry said Gonter bounced back strong and has had an amazing recovery.
Since his accident, Gonter and his wife, Alicia, a radiologic technologist at the hospital, have worked to raise funds to provide tourniquet kits for law enforcement officers. Such a tourniquet was used by the responding officer in his accident, and Gonter said he was within two minutes of bleeding out had the tourniquet not been applied.
What:
UT Health Tyler Christmas tree lighting
Where:
UT Health Tyler, 1000 S. Beckham Ave., front lawn
When:
Tuesday, Dec. 3, 2019
Visuals:
Santa, live reindeer, choir, tree-lighting
About UT Health East Texas
UT Health East Texas provides care to thousands of patients each year through an extensive regional network that includes 10 hospitals, more than 50 clinics, the Olympic Plaza Tower, 13 regional rehabilitation facilities, two freestanding emergency centers, regional home health services covering 41 counties, an EMS fleet of more than 50 ambulances and four helicopters, and a comprehensive seven-trauma center care network, including the region's only Level 1 trauma facility.
As a partner with The University of Texas System, UT Health East Texas is uniquely positioned to provide patients with access to leading-edge research and clinical therapies while training and educating the next generation of physicians and other health professionals. The nationally recognized UT System also includes UT MD Anderson Cancer Center in Houston, UT Southwestern Medical Center in Dallas, as well as three other major university medical centers located throughout the state.