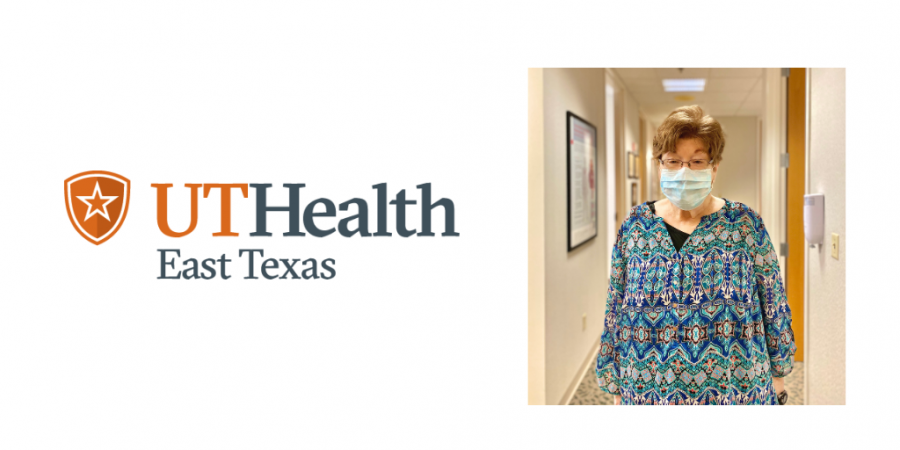 At 77 years old, Janice McMakin wasn't sure she would be able to handle open-heart surgery when she found out she needed her mitral valve replaced for a second time. Luckily, the cardiothoracic surgery team at the UT Health East Texas Cardiovascular Institute in Tyler had a new procedure in mind for her: the transcatheter mitral valve replacement.
In 2014, McMakin had her mitral valve replaced to treat her atrial fibrillation (AFib). This replacement worked for six years, though the AFib never completely went away. In March 2020, she was hospitalized for spotted pneumonia and congestive heart failure.
After her stay in the hospital, she followed up with her cardiologist, Dr. Thaddeus Tolleson, board-certified interventional cardiologist at Tyler Cardiovascular Consultants who referred her to Dr. Vivek Patel, board-certified cardiothoracic surgeon at UT Health East Texas Physicians in Tyler.
"She was very short of breath, and could not perform much activity," Dr. Patel said. "In time, she began to develop congestive heart failure."
Dr. Patel told McMakin that they had two choices: they could either do open-heart surgery or a new, minimally invasive procedure, the transcatheter mitral valve replacement (TMVR), which had not yet been done in the area.
"She had a transcatheter mitral valve replacement," Dr. Patel said. "This was the first time we performed this procedure and the first time it had ever been performed in East Texas. Even the largest center in Dallas had only done 20-30 at the time."
Because the procedure is so new, it's only considered an option when the cardiac team believes surgery would be too risky for the patient.
"This procedure is indicated for those who have had a previous mitral valve replacement and it is noted that the valve is failing," Dr. Patel said."We were able to go in through a vein in her groin and replace a previously placed mitral valve that was not working anymore."
McMakin had the procedure on June 3 and went home from the hospital just three days later, which she says is a miracle in itself.
"It was such a relief to know I didn't have to have open-heart surgery," McMakin said. "That would have been a hard decision to make at 77, not knowing if I'd pull through it. That's pretty traumatic to your system and this has just been so much easier. It's been such a blessing."
Recovery for this procedure is much quicker than open-heart surgery as well.
"Recovery is rapid, usually with a two-day hospital stay and four days of restricted activity at home, then all is allowed," Dr. Patel said.
Not only is recovery quick, it's also much less painful.
"After the surgery, I felt great," McMakin said. "It's been awesome. I have no pain."
Since surgery, McMakin received weekly visits from the UT Health East Texas Home Health team and started cardiac rehab at the UT Health East Texas Rehabilitation Center in Athens and said her experience has been great and her recovery is going well.
"My heart is doing great," McMakin said. "I've been resting and getting good sleep. My heart isn't keeping me from anything. I'm looking forward to traveling and seeing my grandkids."
McMakin is very thankful for her care team at UT Health East Texas.
"I appreciate all the medical expertise these doctors and nurses have and the loving and compassionate way they care for you," McMakin said. "They work so hard. I sure admire the medical staff for all they've gone through."
The UT Health East Texas Heart Valve Center is committed to providing East Texans with the most advanced therapies close to home. Learn more at UTHealthEastTexas.com/HeartCare.