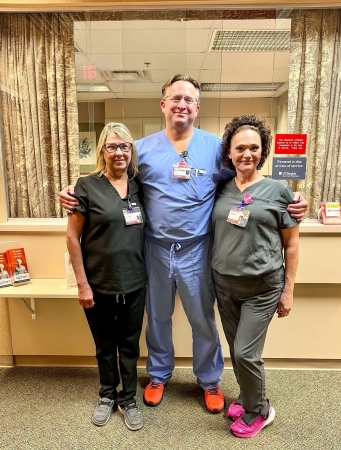 Like many women, Laura Phillips tended to treat her own health needs as an afterthought, often ignoring her primary care physician's recommendation to get an annual mammogram. 
"He's been on me every year about it, and I usually blow it off, but this year I did it," Phillips said. "I don't know, this time to appease him I went on and did it."
Phillips had her mammogram at UT Health Athens, near her home south of Malakoff. Initial results indicated there was a mass, so she went for further testing at UT Health Tyler. She was terrified, especially about the biopsy.
"This whole crew needs a shout out — they were just great," she said of the Breast Center care team. "There was no pain involved. It was a remarkable experience for something everybody told me horror stories about. It was amazing the level of care and concern." 
That level of service resulted in less anxiety when Phillips returned to have markers put in for her upcoming surgery to remove the mass. 
"I had no fear, no pain just calming, loving people around me. It was just great. I was never scared," she said. "I wish that everyone could have what I had that day."
Phillips chose to have her surgery at UT Health Athens, with Dr. Robert Dorman, so that she could remain close to home for the procedure and recovery. She said felt at ease and connected with Dr. Dorman immediately.
"His whole staff, the entire staff, was amazing. Those girls in that office, his nurse, they're all just amazing," Phillips said. "I've never ever experienced doctors with that much concern and care for their patients. I felt so comfortable."
Dr. Dorman said building strong patient-physician relationships is important to him. 
"Patients put their trust in me, and I hold that trust in the highest regard," Dr. Dorman said. "I went into surgery because I enjoy operating, but I pay particular focus to bringing the patient through the pre-operative and post-operative phases of care as well. It is at these times that the most important aspects of the patient physician relationship are formed."
Phillips said her surgery went well and she was home the same day. "Dr. Dorman himself called me the next day to check on me. Not his staff, not his nurse, he did and that right there meant the absolute world to me because most of the time doctors are too busy. For him to call me himself that just put it over the moon. If I ever have to go through another breast surgery Dr. Dorman will be my surgeon." 
While Phillips said she is fortunate the mass in her breast was not cancerous, she wants to share her story in hopes that it encourages women to take control of their health and schedule their annual mammograms.
"If I can make anyone else a little less afraid I will tell my story. It's very easy, and if you can be lucky enough to have these people to take care of you, it is a grace from God and that is truly how I feel. I don't want women to be afraid to go have this done."