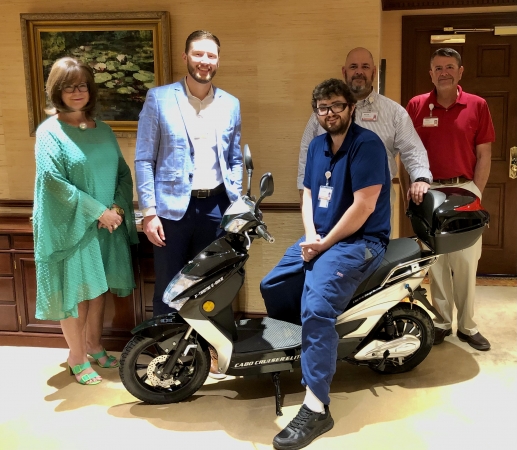 Steven Hickman recently finished his shift excited about his birthday dinner with his mom that night, only to realize his moped had been stolen. What was supposed to be a great day soon turned into the beginning of a dark few weeks for Steven, who works in environmental services at UT Health Tyler. 
Despite the despair and anxiety he felt losing his only means of transportation, he found a way to make it to work, walking to and from work in the scorching heat, often refusing ride offers from coworkers and supervisors. 
 "I don't like asking for help, so this has been the saddest experience," said Hickman, who transports biohazardous materials at the hospital. "They've offered many times to give me a ride home, but I don't want to bother my bosses." 
When leadership at UT Health Tyler learned of Steven's situation, they started discussing how they could help out. The topic came up at dinner with the health system's CEOs from across the region, and within a few hours, they had a solution. 
At that dinner, UT Health East Texas Regional President Donald Baker offered to donate to the cause and challenged the group to raise the funds to replace the moped by the next day. 
"I set up a GoFundMe at 7 a.m. that Thursday morning, and by 9 a.m. we had funded his moped replacement," said Jimmy Clark, UT Health Tyler vice president of operations. "Even though it's a Tyler-specific employee, the system CEOs jumped on it just like they would have one of their own employees at their hospital. I think that speaks to how much we care about each other and living out our mission of caring for people — patients, their families and one another."
Hickman fought back tears when he learned the news from the Tyler leadership team, all of whom contributed to the fund. 
"It means the world to me that they offered to get me a new one," he said. "I work with good people."