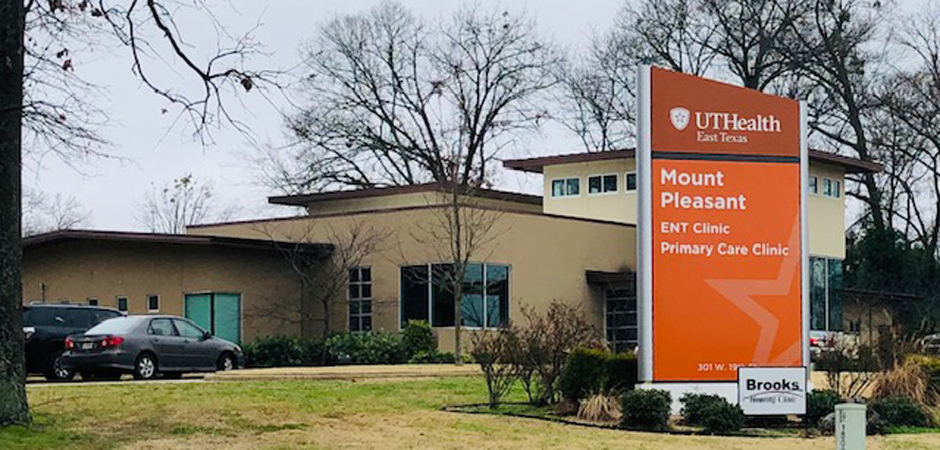 Mt. Pleasant, Texas (January 6, 2020) — UT Health East Texas Physicians will host a grand opening and ribbon-cutting ceremony for its new clinic in Mt. Pleasant at 10 a.m. Jan. 21, 2020. The clinic not only offers family medicine care, but also has an otolaryngology (ENT) clinic.
The grand opening event is free and open to the public and will offer an opportunity to tour the clinic. Light refreshments will be served.
Providers at the clinic include:
Eric Reed, DO, FAOCO, is a board certified otolaryngologist (ENT) at UT Health East Texas Physicians in Mt. Pleasant, Pittsburg and Quitman. Reed focuses on treating the whole patient. "I try to counsel as extensively as possible so the patient and family understand. I view the patient as the most important member of the healthcare team."
Kish Carlton, MD, is a board-certified family medicine physician who practices at UT Health East Texas Physicians clinic in Mt. Pleasant. Carlton aims to treat his patients with a holistic approach. "I encourage open communication so that I can get to know my patients on a personal level. I believe that internal emotional distress can affect their overall health and well-being."
Meagan Smith, MSN, APRN, FNP-C, is a family nurse practitioner at UT Health East Texas Physicians in Mt. Pleasant who believes that nursing has always been her calling. "Both of my grandmothers, my mother and my cousin are nurses." Believing that prevention is the key to each patient's health, Smith's goal is to partner with the patient and come up with a game plan that suits their needs and goals to help them live their best life.
The clinic is located at 301 W. 19th St. in Mt. Pleasant. For more information or to schedule an appointment with one of the family medicine providers or Dr. Reed (ENT), please call 903-577-1101.
About UT Health East Texas
UT Health East Texas provides care to thousands of patients each year through an extensive regional network that includes 10 hospitals, more than 50 clinics, the Olympic Plaza Tower, 13 regional rehabilitation facilities, two freestanding emergency centers, regional home health services covering 41 counties, an EMS fleet of more than 50 ambulances and four helicopters, and a comprehensive seven-trauma center care network, including the region's only Level 1 trauma facility.
As a partner with The University of Texas System, UT Health East Texas is uniquely positioned to provide patients with access to leading-edge research and clinical therapies while training and educating the next generation of physicians and other health professionals. The nationally recognized UT System also includes UT MD Anderson Cancer Center in Houston, UT Southwestern Medical Center in Dallas, as well as three other major university medical centers located throughout the state.