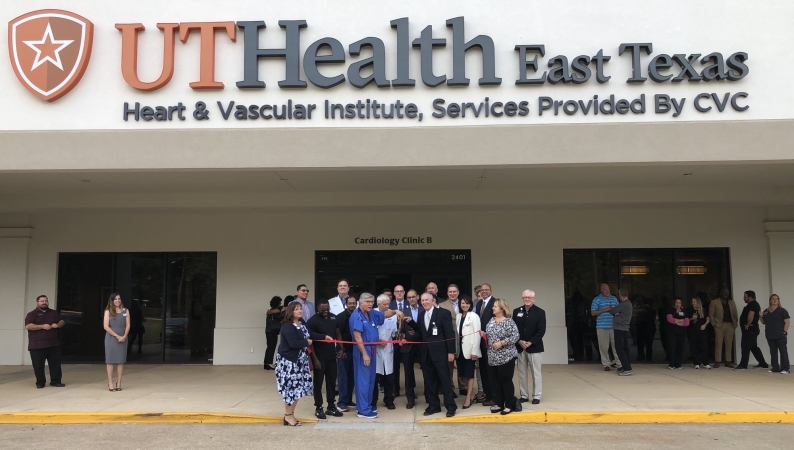 Tyler, Texas (November 3, 2022) — UT Health East Texas, in partnership with Tyler Cardiovascular Consultants, has opened the newly renovated Cardiac Plaza, an almost $9 million investment that expanded the UT Health East Texas Heart and Vascular Institute to provide an Advanced Heart Failure Clinic and Atrial Fibrillation Clinic, as well as a Sleep Disorders Center, in one convenient location, 2608 McDonald Road.
"This Cardiac Plaza represents Tyler Cardiovascular Consultants and UT Health East Texas' commitment to caring for patients in East Texas. It is a significant investment to further our mission of caring for patients, their families and each other," said UT Health East Texas Market President Donald Baker. "In the past year, we have had the pleasure of opening a new NICU to serve our youngest patients and now this beautiful, state-of-the-art Cardiac Plaza, and we have more exciting announcements on the horizon."
The Advanced Heart Failure Clinic helps provide a continuum of care once patients have been discharged from the hospital. UT Health Tyler offers advanced inpatient care, including a designated Cardiac ICU with trained nurses and staff, and patients can rest assured they will receive the same high level of care once they have left the hospital. There is also an on-site diuresis clinic that allows patients the care they need in a convenient, outpatient setting.
"The goal of the UT health East Texas Advanced Heart Failure Clinic is to reduce the burden of heart failure and heart failure mortality, decreasing rehospitalization rates and thereby improving quality and prolongation of life for our patients with heart failure through specialized individualized patient care," said Dr. Augustine Njoku, interventional cardiologist. "We also put an emphasis on educating patients and their families to have a better understanding of the heart failure conditions."
The Atrial Fibrillation Clinic helps coordinate efforts between inpatient and outpatient services and offers more direct access to care planning, treatment and monitoring, with our team of specialists working together to provide comprehensive care in one location.
"The main goal of the Atrial Fibrillation Clinic is to optimize access to management recommendations regarding stroke prevention and management of symptoms," said Dr. Raul Torres-Heisecke. "This way we can facilitate making patients feel better sooner."
Proper management of A-fib is specialized to each patient's needs, with treatment typically falling into two categories, medication or surgical procedures.
"The clinic allows us to optimize management of all forms of atrial fibrillation to prevent recurrent hospital visits and progressive congestive heart failure while also providing strategies to reduce risk of stroke," said Dr. Ashish Gangasani.
The Cardiac Plaza offers an outpatient Cath Lab that allows patients flexibility and convenience for scheduling their procedures. It also offers state-of-the-art digital nuclear equipment for viewing the heart with faster scanning time, improved quality and patient friendly scanning designs. And it has the newest cardiac ultrasound equipment that features sharper, clearer images for the cardiologist and patients to view the heart and vascular system.
The new Sleep Disorders Center, accredited by the American Academy of Sleep Medicine, expands capacity in Tyler from eight to 12 beds with modern accommodations for overnight sleep assessment. The center offers testing for ages 2 and older and allows for a variety of testing services for both daytime and nighttime sleep studies. In addition to in-lab testing, diagnostic home testing also is available for the appropriate patient population.
"Our group of board-certified sleep medicine providers, with help of the state-of-the-art UT Health East Texas Sleep Disorder Center, will help improve quality of care for our patients," said Dr. Ketan Patel, who is board certified in sleep medicine, pulmonary, critical care and internal medicine.
Dr. David Jones, a board-certified pulmonary and sleep medicine physician who is medical director for the sleep center, said the new space brings all of Tyler's sleep study beds under one roof in a location that makes a lot of sense because cardiac issues such as A-fib and heart failure often are associated with sleep disorders.
 "We now have 12 state-of-the art beds in one location in Tyler, so this increases the volume of patients we're able to see," Jones said. "The rooms are akin to a hotel room. They're individual rooms with comfortable beds and provide a nice place to sleep and not be disturbed."