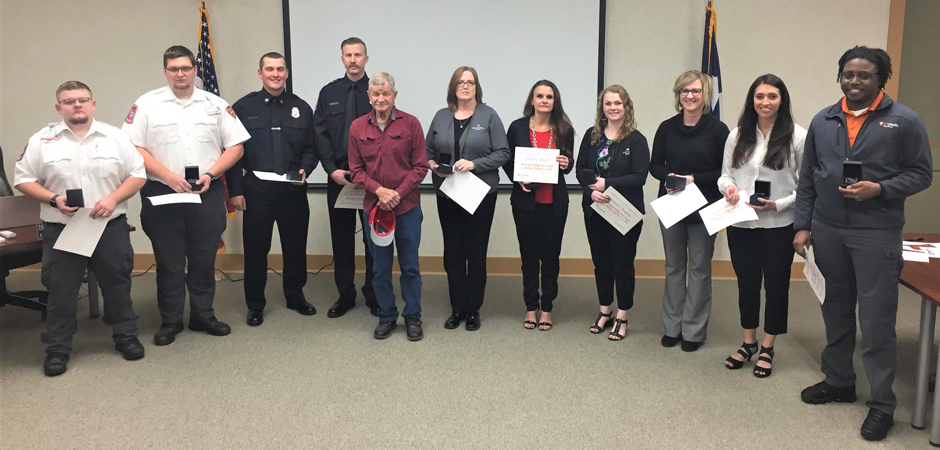 Athens, Texas (December 16, 2019) — A number of individuals recently were recognized by UT Health East Texas EMS/AIR 1 for their quick actions, which helped save the life of a man experiencing a heart attack.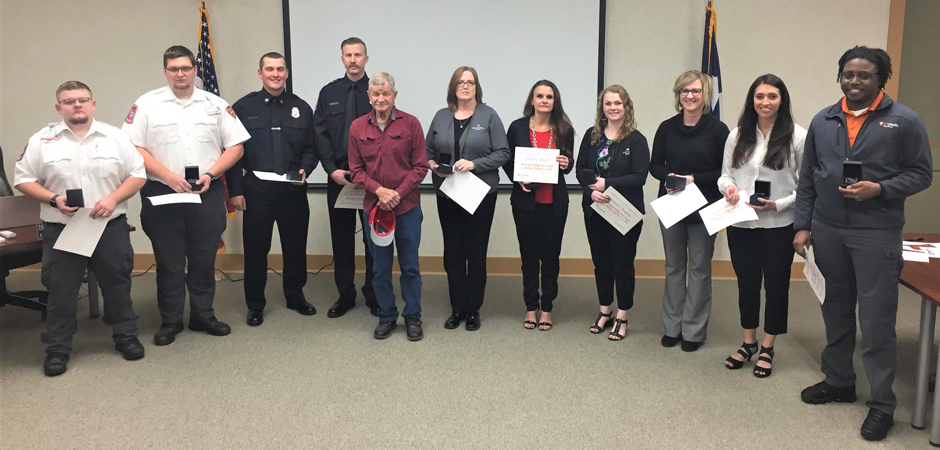 Charles Crutchfield was at First State Bank of Athens when he collapsed this summer. "The quick action from the bank employees, Athens Fire and Rescue and UT Health EMS, all working together, lead to Mr. Crutchfield being alive today," said Todd Loper, UT Health East Texas EMS Henderson County Regional Director.
Those recognized during the Dec. 9 Athens City Council meeting included employees of the First State Bank of Athens, Ruth Beltran, Amber Arnold, Victory Bagley, Julie Bell, Stacey Allen and Armando Rinco; firefighters Mark Oliver and Ricky Harris of Athens Fire and Rescue; and UT Health East Texas EMS Paramedic Ryan Hill, EMT Bryan Moffit and Dispatcher JaMichael Scott.
Each person played an important role during the emergency situation. First, bank employees began hands-only CPR and called 911. The UT Health EMS dispatch operator gave instructions to the employees over the phone while waiting on emergency personnel to arrive. UT Health East Texas EMS and Athens Fire and Rescue crews administered lifesaving medications and worked to stabilize Crutchfield so he could be transported to UT Health Athens.
Crutchfield was stabilized by the emergency team at UT Health Athens and then transported to UT Health Tyler by AIR 1, where he had quadruple heart bypass surgery. He was later discharged and is doing well.
"After the incident, the bank began an initiative to train employees to know CPR and first aid. The UT Health East Texas EMS Education Department taught hands-only CPR and first aid education classes that were attended by bank employees," Loper said.
About UT Health East Texas
UT Health East Texas provides care to thousands of patients each year through an extensive regional network that includes 10 hospitals, more than 50 clinics, the Olympic Plaza Tower, 13 regional rehabilitation facilities, two freestanding emergency centers, regional home health services covering 41 counties, an EMS fleet of more than 50 ambulances and four helicopters, and a comprehensive seven-trauma center care network, including the region's only Level 1 trauma facility.
As a partner with The University of Texas System, UT Health East Texas is uniquely positioned to provide patients with access to leading-edge research and clinical therapies while training and educating the next generation of physicians and other health professionals. The nationally recognized UT System also includes UT MD Anderson Cancer Center in Houston, UT Southwestern Medical Center in Dallas, as well as three other major university medical centers located throughout the state.