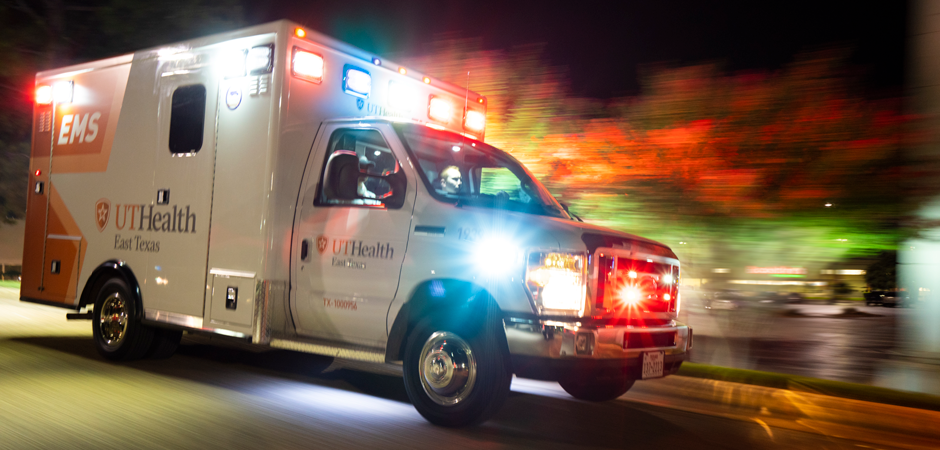 Tyler, Texas (November 19, 2019) — UT Health East Texas EMS and Champion EMS are pleased to report that the parties have settled the lawsuit regarding ambulance services in Tyler, Texas.
Since 1992, ETMC EMS, now operating as UT Health East Texas EMS, an affiliate of UT Health East Texas, has been proud to serve the citizens of Tyler and Smith County, Texas as their exclusive ambulance service.
Under the terms of the settlement agreement, UT Health East Texas EMS will continue to operate its ambulance service under the exclusive contract arrangement with the City of Tyler and Smith County. As part of the settlement, Champion, now operating as CHRISTUS EMS, may provide transports from its Urgent Care location at 5414 S. Broadway Ave. and from its ER location at 8389 S. Broadway Ave. to its main hospital at 800 E. Dawson St. These transports allow CHRISTUS to maintain care for the patients that enter their system and desire to stay in their system. All requests for transports and emergency calls will be routed through UT Health East Texas EMS's dispatch center as it remains the exclusive contractual provider of ambulance services in the area. Individuals requesting emergency care should still dial 9-1-1.
"This settlement is in the best interest of the citizens of Tyler and Smith County as it alleviates the confusion the dual ambulance operations were causing and allows UT Health East Texas EMS to remain the exclusive provider of ambulance and emergency transportation services in the City of Tyler and Smith County," said Moody Chisholm, CEO of UT Health East Texas.
"We are pleased to have this matter resolved in a manner that allows CHRISTUS EMS to provide our patients with seamless transportation between our CHRISTUS Trinity Mother Frances facilities," said Chris Glenney, Sr. Vice President, Group Operations CHRISTUS Health; Chief Executive Officer, CHRISTUS Health NETX; and President, CHRISTUS Trinity Mother Frances Health System. "We look forward to providing necessary, lifesaving treatment to our patients when someone has made the choice to entrust us with their care."
About UT Health East Texas
UT Health East Texas provides care to thousands of patients each year through an extensive regional network that includes 10 hospitals, more than 50 clinics, the Olympic Plaza Tower, 13 regional rehabilitation facilities, two freestanding emergency centers, regional home health services covering 41 counties, an EMS fleet of more than 50 ambulances and four helicopters, and a comprehensive seven-trauma center care network, including the region's only Level 1 trauma facility.
As a partner with The University of Texas System, UT Health East Texas is uniquely positioned to provide patients with access to leading-edge research and clinical therapies while training and educating the next generation of physicians and other health professionals. The nationally recognized UT System also includes UT MD Anderson Cancer Center in Houston, UT Southwestern Medical Center in Dallas, as well as three other major university medical centers located throughout the state.