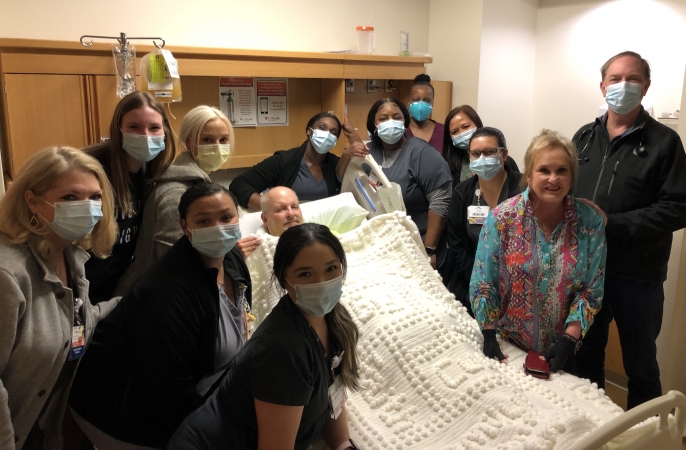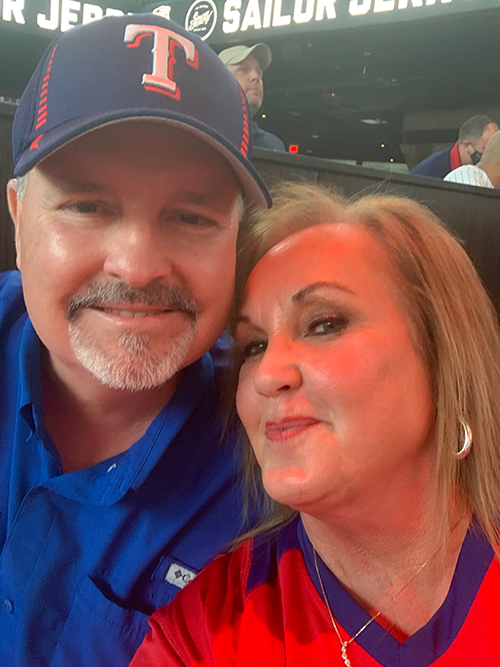 Jim Jordan returned from a golfing trip in August knowing something wasn't quite right with his health. After undergoing bloodwork, which had been perfect at a visit in March, he was told he needed to go to the emergency room immediately. He and his wife, Becky, arrived at UT Health Tyler, not knowing what exactly was wrong or what to expect. 
Dr. Lance Mandell, who specializes in oncology and hematology at UT Health East Texas HOPE Cancer Center, soon told them that Jim, 64, had myelodysplastic syndrome (MDS), which can transition to acute myeloid leukemia.
"We didn't know anybody, thank God he was on call. We were blessed to get Dr. Mandell," Becky said. "From the time he sat down with us that first night, we were scared. He talked to us 20 or 30 minutes, sitting on the end of the bed. He's been the best."
Despite their shock, the Jordans said Dr. Mandell provided them comfort and hope that first night.
"From Day 1 he said, 'We've got this,'" Jim said of that first meeting with Dr. Mandell. "He said, 'Not only are we going to get this, we're going to cure this.'" 
Jim started outpatient chemotherapy at HOPE Cancer Center, but his MDS did turn into leukemia and he eventually was admitted to UT Health Tyler to help him fight off infection while he underwent additional treatments. 
That feeling of hope and comfort the Jordans felt the first night of Jim's diagnosis continued with hospital staff for the six weeks he spent in the hospital. 
"This is the best group of nurses we've ever been around, and we've been around," Becky said. "Every single one of them. I've never seen anything like it, it's totally remarkable." 
Becky stayed with Jim almost every night he was in the hospital, heading to their Henderson home only to do laundry and check on their two Shih Tzus. 
"The nurses just took such good care of him. I didn't worry a minute. And that's not me, I worry all the time about him," she said. "I have never seen anything like this group here. They are on the ball, and they explain and tell us in detail what they're doing and why with a smile on their face. They are so on the ball here, they are heaven."
Alex McComas, RN, said the entire nursing staff formed a bond with Jim, playfully fighting over who got to care for him each day. 
"There were days when he was really sick, and you could tell he didn't feel good but wanted to have a good attitude," she said. "It makes you appreciative of all the things you can do to take care of him and to encourage him to keep going."
In turn, Alex said, Jim often encouraged those who were caring for him.
"He's been so encouraging to us despite the position he's in. He doesn't have to encourage the nursing, staff but he does," she said. "That's been the biggest gift to see and be a part of. It's been the biggest honor to take care of him and learn from him."
Dr. Mandell said that attitude can make a difference.  "He's been the perfect patient. Attitude makes a huge, huge difference and he's had the most positive attitude I think I've ever seen," he said.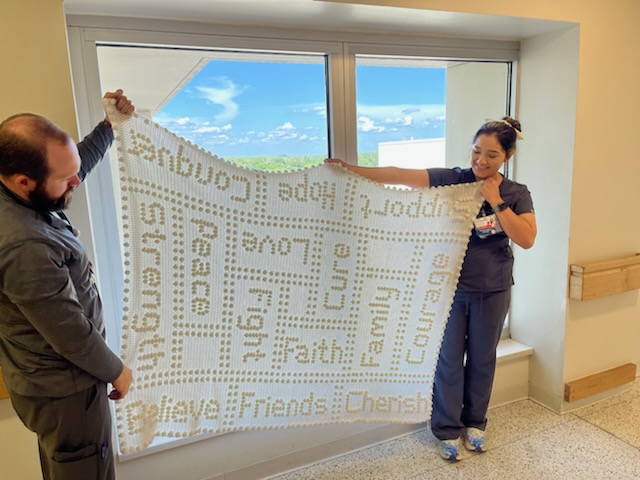 Jim's caregivers hold up the blanket made by David Warren's mother-in-law.
Because of that attitude and the bond he developed with all of his caregivers, the staff decided to present Jim with a blanket crocheted by the mother-in-law of David Warren, a cancer survivor who works at UT Health East Texas in the facilities department.
"She wanted someone that really was deserving of it, someone that was going through a hard time," Warren said. 
His mother-in-law, Connie French, said she made the blanket as a remembrance to her husband, who she lost to cancer in 2007.
"Cancer took my husband. I've got to fight it somehow, so I'm doing what I can," French said. "It's from the heart. I've got to do something. I can't do it any other way, so that's what I do, I crochet."
Jim teared up as he accepted the blanket, presented by his team of caregivers the day he was discharged. 
"It's been scary and something you never want to go through, but they've just been so good," he said. "There's not one thing I would change. Every day they were my motivation. They saved my life."
Now in remission, Jim will face a stem cell transplant at UT Health Southwestern in hopes of keeping the cancer from ever returning. He plans to keep in touch with his UT Health East Texas care team, who became such a part of his life, and throw them a party when he returns.
"All the people here have been nothing but good, they helped me every day through it," Jim said. "The whole floor has been unbelievable and helpful, they got us through it."