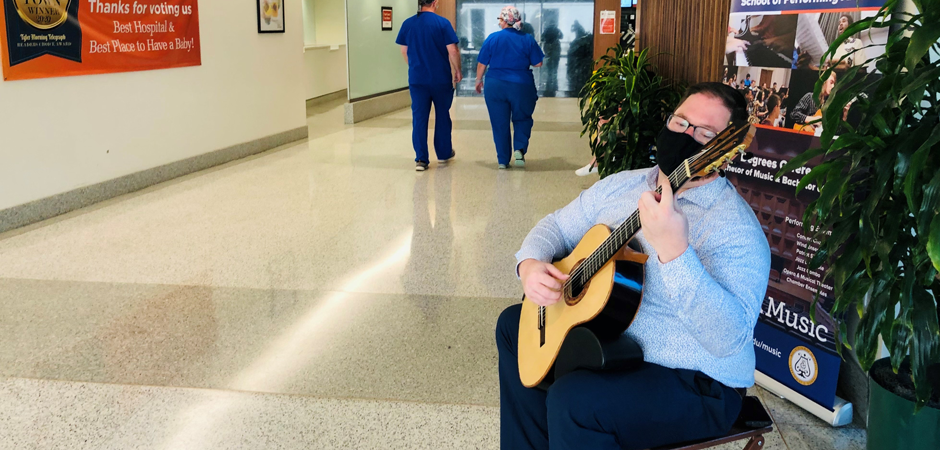 Dan Kyzer, UT Tyler adjunct professor of guitar, plays guitar in the UT Health Tyler lobby on Wednesday as part of the new Music and Medicine partnership between UT Health East Texas and UT Tyler.
Tyler, Texas (April 23, 2021) — The soothing sound of guitar strings greeted patients, visitors and staff at UT Health Tyler this week, part of a new Music and Medicine partnership between UT Health East Texas and The University of Texas at Tyler.
"We all understand the healing power of music and the impact it can have in stressful situations," said Dr. Julie V. Philley, executive vice president for health affairs at The University of Texas Health Science Center at Tyler. "Our alignment with UT Tyler is not just a blessing for clinical care opportunities, but will allow us to expand the performing arts in many ways."
The idea for this collaboration came from Vicki Conway, senior lecturer in music at UT Tyler, who was inspired by the keynote speaker at the Music Teachers National Association Virtual Convention in March who told of a similar effort in Houston. Conway discussed the idea with Kyle Gullings, director of the school of performing arts and associate professor of music, and they approached Dr. Philley with the idea.
"It is our hope that bringing live music will bring a smile and a diversion from the stress so common in hospital settings," Conway said. "We also hope to make hospital staff feel appreciated and valued, especially for all they have endured as frontline workers during the pandemic."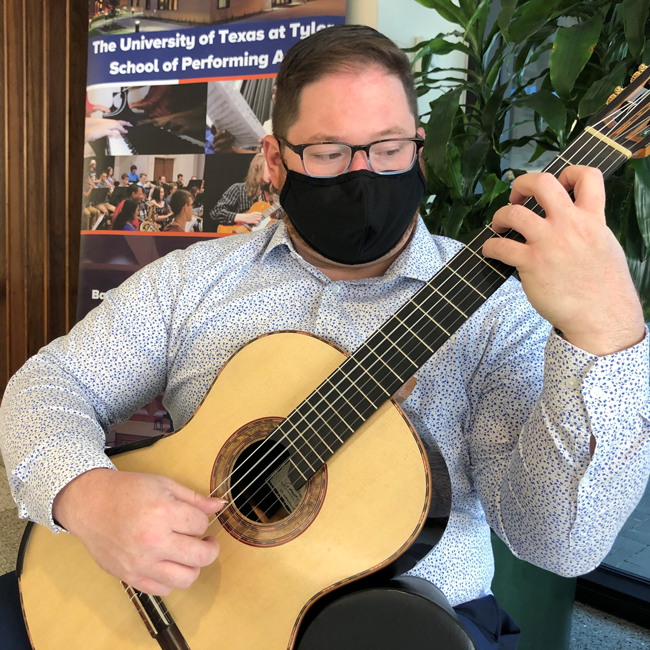 Hospital employees were appreciative of the live music event, said UT Health Tyler CEO Vicki Briggs, noting the email response she got from one caregiver: "Thank you so much for the music in the lobby today, it was very unexpected and much appreciated!"
Conway said the plans are still evolving for the next academic year and will depend largely on COVID-19 safety protocols, but they wanted to get started this spring by providing live guitar or piano music on-site since these instruments do not involve air projection.
Dan Kyzer, adjunct professor of guitar, volunteered to give the first concert at UT Tyler, and the UT Tyler Piano Studio is planning the second concert on April 30 at UT Health North Campus Tyler.
About UT Health East Texas
UT Health East Texas provides care to thousands of patients each year through an extensive regional network that includes 10 hospitals, more than 50 clinics, the Olympic Plaza Tower, 13 regional rehabilitation facilities, two freestanding emergency centers, regional home health services covering 41 counties, an EMS fleet of more than 50 ambulances and four helicopters, and a comprehensive seven-trauma center care network, including the region's only Level 1 trauma facility.
As a partner with The University of Texas System, UT Health East Texas is uniquely positioned to provide patients with access to leading-edge research and clinical therapies while training and educating the next generation of physicians and other health professionals. The nationally recognized UT System also includes The University of Texas MD Anderson Cancer Center in Houston, The University of Texas Southwestern Medical Center in Dallas, as well as three other major university medical centers located throughout the state.