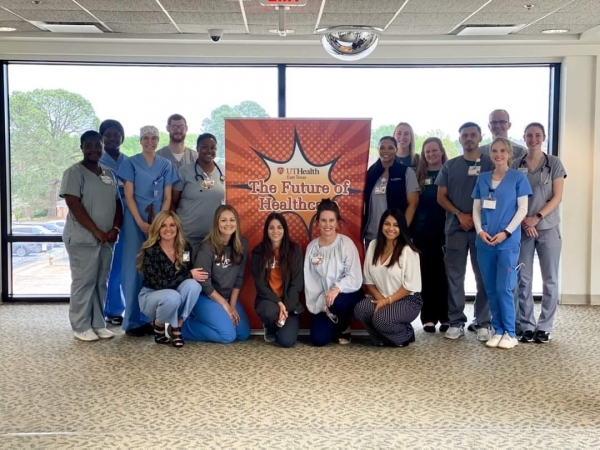 UT Health East Texas is hiring nursing students as externs while they complete their required clinical hours in a new program that benefits not only the nursing students but the hospital as well. 
"Our entire vision and intent was to create an environment where students felt like they were accepted, they were treated as part of the team and they got an experience that they would not have otherwise gotten," said Lecia Bowman, MSN, RNC, chief nursing officer for UT Health Tyler and UT Health North Campus Tyler. "The feedback from those who have graduated was exactly what we wanted to hear — 'I was treated so wonderfully. This is the place to be. I was welcomed here. They've taken me under their wings.' That's what I needed to hear to know that this is a huge success."
The opportunity is one of the rare positives to emerge from the COVID-19 pandemic. During the height of the pandemic, in an effort to provide staffing assistance to hospitals and ensure clinical placement opportunities to nursing schools, the National Council of State Boards of Nursing enacted the Academic Partnership Policy.
UT Health East Texas took advantage of the opportunity, and built a paid nurse extern program, starting its first cohort in January 2021. The health system has since hosted two additional cohorts of nurse externs, for a total of more than 130 nursing students employed at UT Health East Texas. Of the 20 nurse externs who have graduated, 17 have been hired as full-time nurses. 
Nursing students are required to log hours in a clinical setting before they graduate nursing school. Previously, those students would be placed on a unit for a day or two at a time, which didn't allow for those nurses to really feel like they were a part of the team, said Meagan Dyson, MSN, RN, director of nursing education. "They'd come here and have their clinical instructor who would drive their day, essentially," Dyson said. "They were just there for the day to check off their skills for their clinical competencies.
"Now, they show up as an employee of the unit they're on. They're getting paid. They're answering to that manager," Dyson said. "There's still that facilitator side of it; there's still that clinical instructor, but now there's more people watching; there's more support; there's more people invested in that person's success."
Heather Oden, MSN, RN, clinical liaison for the nursing extern program, said employing the student nurses allows them to become familiar with the hospital's environment and the culture on the units.
 "As a student, if you move from unit to unit, you don't get to know the staff, the policies, the processes or where anything is," Oden said. "When they are employed with us throughout their semesters, they know where everything is; they can find an IV start kit; they know who the charge nurse is; they know who to reach out to for help. We're growing them to be part of our family long-term." 
Rosemary Enanga, RN, said she learned about the extern program while she was in nursing school at The University of Texas at Tyler - Palestine Campus and immediately was drawn to the opportunity because of her experience at UT Health Tyler as a patient after a September 2019 car accident that almost claimed her life. She said through the paid extern program she had the opportunity to experience working in the operating room, the unit where she hoped to work full time upon graduation. 
"These people were so nice. The supervisor, manager and everyone was so nice, and they were willing to help me as a student," Enanga said. "It built my confidence and made me really sure of my environment." 
After she graduated nursing school, Enanga was hired full time in the operating room, where she sometimes gets to work alongside the doctor who she credits with saving her life after her car accident. 
"It's home for me. The universe showed me all the signs," Enanga said. "I'm so happy for UT Health and I'm so proud to be part of the team."