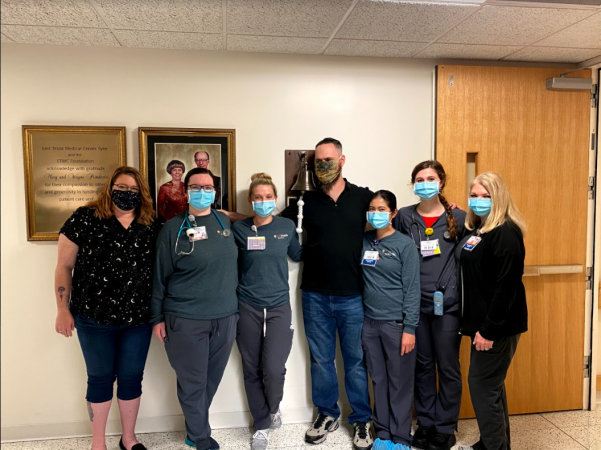 In March 2020, the world flipped upside down. For many, it was COVID-19 concerns, but for Navy veteran Jeff Hickerson, it was a battle with leukemia.
"I started feeling tired and was getting worn out quickly," Hickerson said. "I used to have high blood pressure, so I thought it was my blood pressure going up again, but I kept putting off getting it checked. Then my gums started bleeding, but I thought it was gingivitis, so I changed my toothpaste. On March 10, I woke up half-blind in one eye. I went to the VA to get it checked out and they rushed me to the UT Health Tyler emergency room because they thought I had a stroke. The ER doctor told me it wasn't a stroke and that I passed all the stroke protocol, but they discovered I had some kind of blood cancer and took me to the sixth floor. The crazy thing is that I went to work that day. I went to get my blood pressure checked on my lunch break and didn't go home for another 34 days."
On March 17, Hickerson was diagnosed with acute myeloid leukemia (AML), aggressive cancer that starts in the bone marrow and can quickly move into the blood and other parts of the body.
Around the time Hickerson was diagnosed, hospital visitors were being limited due to COVID-19. This included cancer patients.
"When Mr. Hickerson first arrived in March 2020 with a new leukemia diagnosis, he was very nervous and scared," said Tawana Burgess, RN, OCN, oncology nurse at UT Health Tyler. "COVID-19 was spreading throughout our country and all hospital visitation had stopped. Knowing how important it is for cancer patients to have the support of their family, the administration decided that cancer patients could have one visitor. Among many others, Mr. Hickerson was one of the first patients that had to deal with this struggle. He wanted his family with him, and we fought for him."
"The nurses up on 6 North, the oncology floor, fought not only for me but for all the cancer patients because a huge part of our recovery is having some kind of support system," Hickerson said. "By the end of that day, I was allowed to have one visitor. That was the first time it clicked in my head that I really liked these nurses."
The first month he was in the hospital, Hickerson was being monitored, receiving transfusions and being treated with chemotherapy. He was treated by Dr. Michael Ashigbi, board-certified oncologist at the UT Health East Texas HOPE Cancer Center.
"I love Dr. Ashigbi," Hickerson said. "He's a great doctor. I couldn't have asked for anyone better. My oncologist at the VA in Dallas has told me that, too. They've sent him several veteran patients, and they've all said that same thing."
Hickerson's time in the hospital wasn't easy, but he fought hard and stayed motivated to get through it.
"He was a very determined patient who took his care very seriously," Burgess said. "He did everything he could to get better and beat cancer. As nurses, we strive to encourage strength in each of our patients as they navigate through their treatments. The treatment process is a long and challenging battle, both physically and mentally, and during this time he became part of our family very quickly. He walked the halls to keep his strength up and even with a mask on his face, you could still see the hope in his eyes."
On April 12, results from his second bone marrow biopsy showed that he was already in remission, and on April 14, he was discharged home. But his fight wasn't over.
"Even though I was already in remission, they still wanted me to go through the rest of my treatment, so every month I had to come back for a week's worth of chemo," Hickerson said.
Hickerson came back to the hospital in May for his first round of chemo after his initial discharge. When he went home this time, his blood and platelet counts dropped so low that he had to rush back to the hospital for a transfusion. A couple of days later, he checked back into the hospital for surgery to remove an abscess. After surgery, he spent a week recovering on the second floor. Though there were four floors between him and his 6 North nurses, they continued to check in and support him.
"All of my 6 North nurses kept checking in with me on the second floor," Hickerson said. "Several of them came down to check on me and would bring me coffee and snacks. I woke at 3 a.m. one night and three of my nurses were there. They didn't want to wake me but just came down to check on me. They were all amazing. Every time I was at the hospital, whether I was on the sixth floor or in the emergency room, more than likely getting ready to go back up to the sixth floor for a transfusion, they were there. When I wasn't in the hospital, they were constantly checking on me on Facebook. They became my family."
Hickerson finished his chemo treatments in September and rang the ceremonial bell at the UT Health East Texas HOPE Cancer Center, marking the end of his treatment.
"It was great that I got to ring the bell at HOPE and it meant more than anything I could ever describe, but it would have meant even more if I'd been able to ring it with my sixth-floor family," Hickerson said. "A few of them even commented after I posted my bell-ringing video that they wished they'd had a bell up there on the sixth floor for those kinds of things."
This put an idea in Hickerson's head. He decided to donate a bell to the sixth floor.
"I can't ring my bell with them, but I want to make sure that future patients who get as close to them as I have, or have those same feelings, are able to share that experience with them," Hickerson said. "At the bottom of the plaque, it has the cancer victory poem. I saw videos of people reading that when I was in the hospital, but what I didn't realize at the time and when I was trying to decide what I wanted the plaque to say, is that the poem was written by a retired Navy SEAL. Being a Navy veteran myself, that hit me even stronger."
Hickerson will present the bell to the sixth floor at UT Health Tyler this spring. His sixth-floor nurses have requested that he be the first patient to ring it.
Cancer is the second leading cause of death in both men and women. To learn more about cancer care at UT Health East Texas, visit UTHealthEastTexas.com or call 903-596-DOCS to schedule an appointment.
This story was featured in the April/May issue of TylerToday Magazine.
On April 16, 2021, Jeff Hickerson donated the cancer victory bell to the oncology unit on the sixth floor at UT Health Tyler and was the first to ring it.