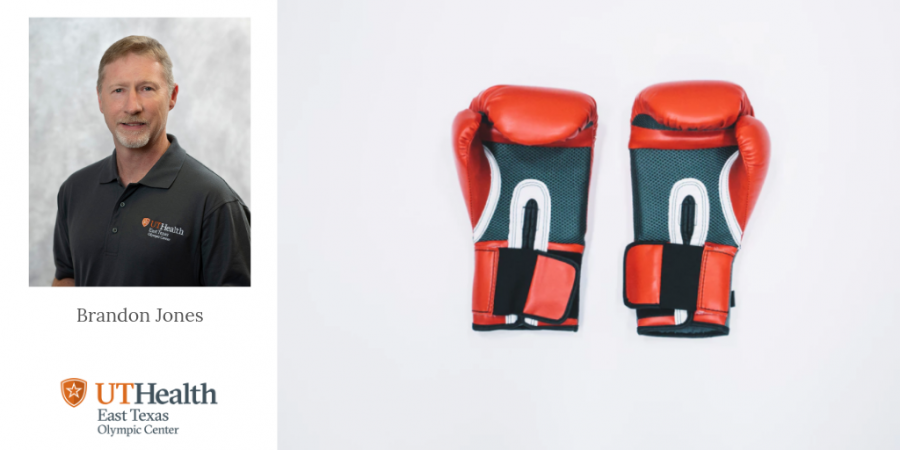 Brandon Jones, a Marshall, Texas, native, began boxing and learning kung fu at age 12. He fell in love with the sport and achieved his dream of opening his own kung fu studio and boxing gym in 1996. "Kung fu and boxing is who I am," says Brandon. "It's a passion of mine and I love sharing that passion with others."
Brandon's countless hours in the gym – training himself and teaching others – made him realize that boxing's benefits could be of major help to those with Parkinson's disease. This realization eventually led to the program Counter Punch. "A boxing-based workout program specifically for people with neurological muscle movement disorders was an idea that I pitched to Greg Maschal, director of UT Health Olympic Centers, a little over a year ago," says Brandon.
"I was inspired by watching George Foreman train for hours inside his barn at his property in Marshall, and then I began martial arts and boxing training, where I quickly leaned the numerous benefits of intense, focused exercising," he continued. "I came across an article touting the benefits of boxing for Parkinson's and I immediately began researching the topic. Greg liked the idea and I began planning out the curriculum."
Exercise is important for every individual, but for those with Parkinson's, it can be vital in managing symptoms. "Parkinson's robs a person of their balance, their hand-eye coordination and muscle control. Boxing is the ultimate exercise to improve those skills," says Brandon. "The goal of Counter Punch is to slow down the progression of Parkinson's disease and other neurological muscle movement disorders through intensive, focused boxing training."
If you haven't boxed before, it's likely you have an image of muscular men violently hitting each other, but Brandon wants those who have that image to know that the program isn't a battle against another person. "Do not be afraid of the thought of boxing. You will not have to fight another boxer," shares Brandon. "What you will fight is the progression of your disease."
He has designed each class so it incorporates several skills and movements that touch on aerobics, strength, improving balance and increasing hand-eye coordination. "Each class consists of a warm-up, workout, core exercises and a cool down. During the workout phase is when the boxing happens. First we shadow box, focusing on proper punching techniques and footwork," says Brandon. "Then we hit bags, target pads and moving hand pads."
The first Counter Punch sessions helped all participants improve their lives and take control of their health. Brandon wants to spread the news so everyone can know how much these classes can help. "I wish everyone knew how much this program can change their life! All of the benefits you gain from the Counter Punch program, you will carry into your daily lives. Your improved balance in walking, your renewed strength in standing and sitting in a chair, your confidence in getting up off the floor, and so many more."
There are still spots available for the Counter Punch sessions beginning May 14. Stop by or call the Olympic Center in Tyler at 903-596-3233 to learn more and register.
Counter Punch is designed to help those with any neurological muscle movement disorder, including Parkinson's, but before signing up or starting any kind of new exercise routine, you should talk with your physician. You can discuss your starting point, limitations and what activities you find enjoyable to find the right fit for you.
---
After opening his Kung Fu and Tai Chi studio in Tyler in 1996, Brandon Jones joined the UT Health East Texas team in 1998 as a group fitness instructor teaching Tai Chi at the Olympic Center.
What began with only one class per week back then has now grown to five Tai Chi classes per week. Brandon also shared Tai Chi with the former ETMC cancer survivors support group for twelve years.
Brandon is also cofounder of the nationally sold video, Tai Chi Forever; 8 Steps to Optimal Health. Tai Chi Forever is one of the only medically documented tai chi videos on the market. 
A popular guest speaker for a variety of organizations, Brandon discusses the topics of self-defense for women and children, Tai Chi for seniors, and adult fitness. For two years Jones was the self-defense expert for CBS Channel 19, appearing weekly on the Live @ 5 evening show. 
Utilizing his expertise in self-defense and boxing, Brandon also has instructed several fitness kickboxing classes for the Olympic Center and has taught numerous personal safety classes to fitness members and staff.