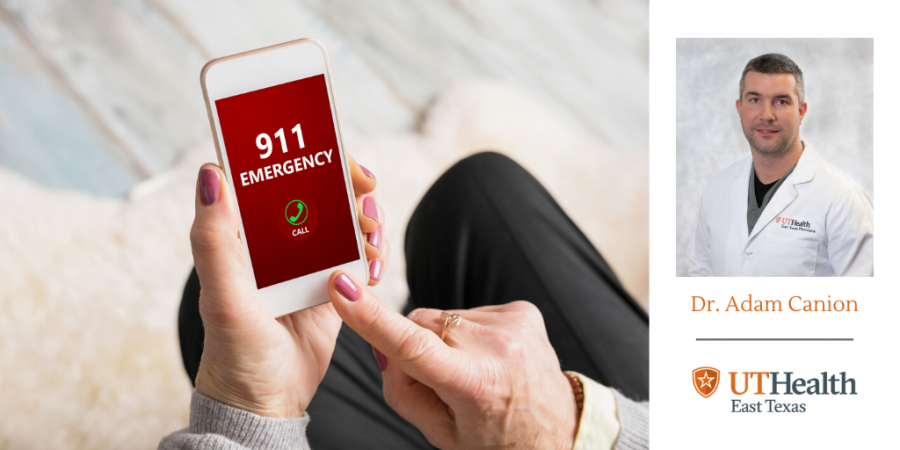 Did you know that stroke is the No. 5 cause of death and the leading cause of disability in the United States? It's important to understand what a stroke is, know the signs and act fast. Once a stroke occurs, you don't have time to waste.
A stroke occurs when the blood flow to the brain is obstructed, due to a blocked or ruptured blood vessel in the brain. This lack of blood flow reduces the oxygen and nutrients to the brain, which can cause damage to the brain cells. Strokes are very serious and depending on the severity and area of the brain affected, injury can occur and cause the following effects:
Difficulty moving or controlling arms or legs

Total or partial paralysis of the body

Facial droop on one side

Slurring of words

Difficulty speaking or understanding speech

Blurred vision, double vision or blindness

Changes in sensation

Changes in behavior and thought patterns

Changes in memory or emotions

Persistent vegatative state called locked-in syndrome

Death
The sooner treatment begins, the greater the chances are for a good recovery.
Know the signs
To reduce the negative effects of stroke, early recognition and response are critical. "Learn the FAST(see below) acronym and don't wait, call 9-1-1," said Dr. Adam Canion, a physician at the UT Health Tyler Level I Trauma Center. "Never feel like you are troubling the emergency room staff and never be embarrassed to come. If you are concerned you may be having a stroke, we want to see you and evaluate you immediately. Even during this pandemic, please call 9-1-1 if you believe you may have symptoms of a stroke."
Signs of stroke - remember FAST.
Face drooping

Arm weakness

Speech difficulty

Time to call 9-1-1
Other signs include the following:
Weakness of face, arm or leg, specifically in one side of the body

Confusion or trouble speaking or understanding speech

Trouble seeing in one or both eyes

Trouble walking, dizziness, loss of balance or coordination

Severe headache with no known cause
If you or someone you know is experiencing stroke symptoms, call 9-1-1 immediately.
With the onset of COVID-19, know that keeping everyone safe and healthy is our top priority. Please do not put off treatment in the case of an emergency. Your chances of recovery increase the faster you receive treatment. UT Health East Texas EMS and emergency departments are taking the necessary precautions to keep patients and caregivers safe. All patients are screened before entering the emergency room and those considered at risk for COVID-19 are tested and treated in a separate part of the hospital. If you are experiencing a medical emergency, call 9-1-1 immediately.
Risk and prevention
Avoiding a stroke is better than treating one. Some risk factors, such as age and family history cannot be controlled. There are many others, however, that can be controlled to decrease your risk or prevent stroke.
Eating healthy foods and avoiding foods high in fat

Manage your health conditions, such as high blood pressure, cholesterol and diabetes

Reach or stay at a healthy weight

Regular exercise

Limit your alcohol intake

Do not use street drugs or tobacco
"Have a plan if you live with others, and keep your medication lists and medical history close so we can help you quickly and effectively evaluate you once you get to the ER," said Dr. Canion. "We want to know what medicines you are taking and what your medical history is. Focus on prevention, it really works! Speak with your primary care physician if you are concerned you may be at risk and develop a plan in advance."
At the UT Health East Texas, our flagship stroke program in Tyler is certified by The Joint Commission as a Comprehensive Stroke Center, recognized for having the resources, staff and training to treat the most complex stroke cases. UT Health Tyler is also a Level I trauma center, providing the highest level of care to trauma patients.
Our specialized stroke team manages the stroke patient from the onset of the stroke to the rehabilitation and management post-stroke.
UT Health East Texas hospitals in Athens, Henderson, Pittsburg and Quitman are designated support or level three stroke centers. Together, these facilities create a program that utilizes the latest advances in stroke care and adheres to protocols that assure good and consistent outcomes for stroke patients. All UT Health East Texas hospitals except UT Health Tyler (which is Level I) are Level IV trauma centers.
"Remember, act F.A.S.T. and call immediately," said Dr. Canion. "If you are having a stroke, the sooner we can treat you the better. All of us in the ER are here to treat you 24 hours a day, 7 days a week."
If you or someone you know is experiencing signs of a stroke, call 9-1-1 immediately. Visit UTHealthEastTexas.com/Stroke for more information.