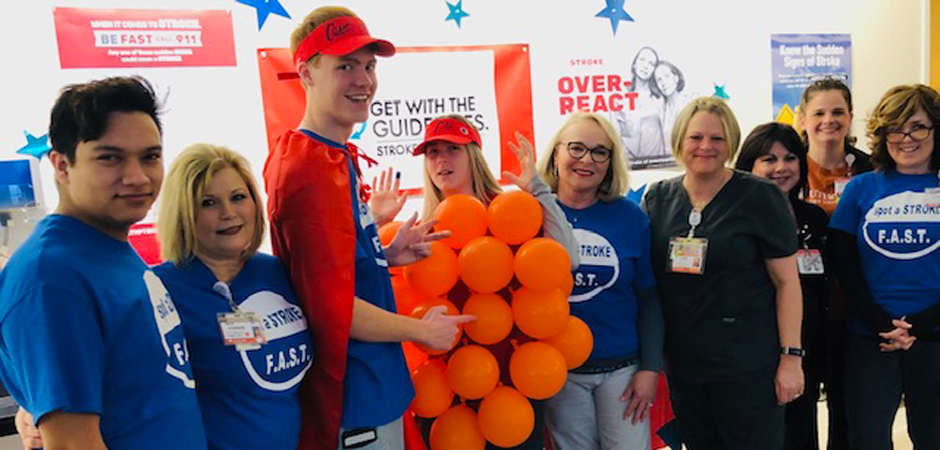 Pittsburg, Texas (Januaray 2020) — UT Health Pittsburg recently hosted a Stroke Awareness Day to provide information to caregivers and patients.
Emergency Room Director Dr. Greta Parks coordinated the event, which featured facts including new stroke guidelines as well as signs of a stroke.
"For medical personnel we are helping introduce the new guidelines, and what is expectation in the ER for a patient who walks in with a stroke," Dr. Parks said. "And for the layperson, we're trying to focus on prevention and awareness."
That awareness included laminated wallet-sized cards containing the acronym BE FAST, standing for the following:
Balance – Watch for sudden loss of balance
Eyes – Check for vision loss
Face – Look for uneven smile.
Arm – Check if one arm is weak.
Speech – Listen for slurred speech.
Time – Begin triage right away.
The event also featured fun ways to share stroke information. There was a human "clot" — someone wearing orange balloons that could be popped to reveal a stroke fact inside. Accompanying the clot was a cape-wearing sidekick called Captain tPA (tissue plasminogen activator) after the drug used to treat some types of strokes.
There also were free carotid artery screenings for caregivers and a custom-made cake featuring a brain.