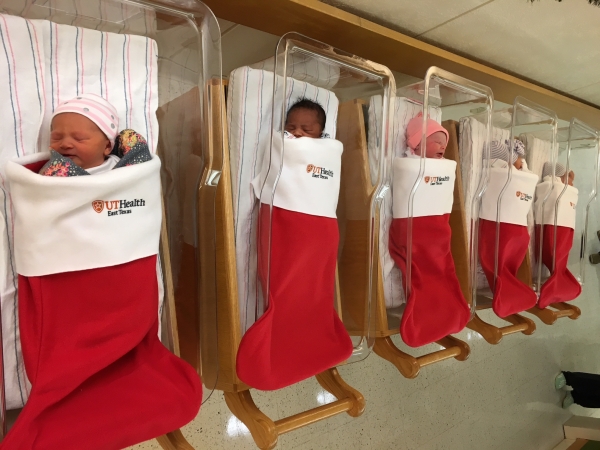 Christmas stockings are being stuffed with the most precious gift of all this season – bundles of baby joy.
UT Health East Texas is presenting all new mothers with hand-sewn stockings embroidered with the UT Health East Texas logo.
"We are so pleased our labor and delivery departments can offer these hand-sewn special keepsakes during the holiday season," said Moody Chisholm, UT Health East Texas President and CEO. "These parents already are taking home the best gift possible this season, and we hope this stocking is a fun reminder for years to come of how small their bundle of joy once was."
Lauren and Kyle Nicholson, of Lindale, were the first recipients of one of the stockings when they welcomed their first child, Hannah Alysce, at UT Health Tyler about 12 p.m. Dec. 1.
Hannah arrived a couple days before her due date, weighing in at 8 pounds and measuring 20 ¼ inches. Lauren Nicholson said Hannah is the "the best Christmas gift you could ask for," adding that they planned to spend the holidays, "at home just the three of us and celebrating how good God has been to us."
Lauren said she plans to hang the stocking Hannah was placed in at the hospital over the mantel this year and keep it so Hannah can one day see how small she was.
The oversized felt stockings were hand sewn by the local Church of Jesus Christ of Latter Day Saints. The church's Relief Society, which provides humanitarian efforts locally and worldwide, jumped at the chance to help, said Lance Seahorn, manager of bed control for UT Health Tyler who also attends the church.
"The good women of the church said you bet we'd love to donate the stockings to send these precious little gifts home in, so they went to work and in over a couple weeks they had more than 130," Seahorn said. "And there are more to come."
Other newborns who were first to arrive this December included:
UT Health Athens
Ryder Kye Willingham, born Dec. 2 to Haley Tillison and Marcos Willingham weighing 7 pounds, 10 ounces and measuring 21 1/2 inches.
UT Health Henderson
Ezra Michael Eggleston, born Dec. 3 to Kristina Eggleston and Justin Dykes weighing 8 pounds, 10.2 ounces and measuring 20 inches.