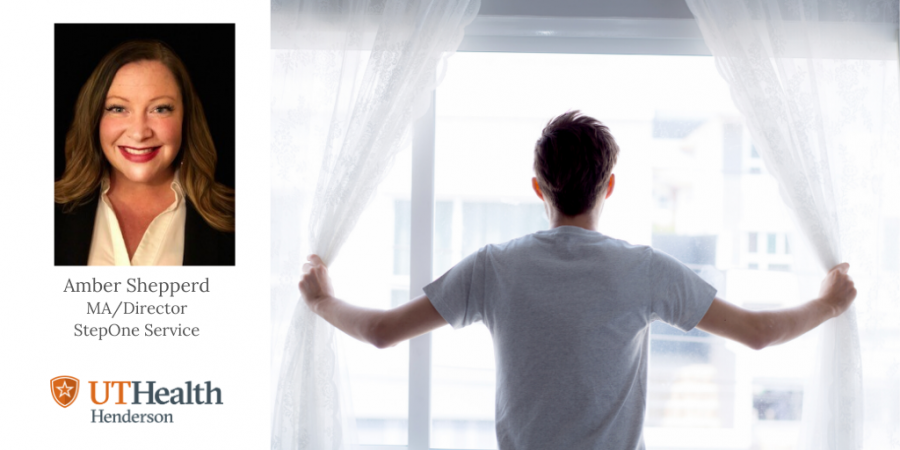 Making the decision to get help for substance use disorder is a huge step in the right direction that is not easy for most to make. UT Health Henderson's StepOne Service is designed to support those who have made this commitment ] to improving their life by providing them with treatment to get through their withdrawal process and set them up for lifelong success.
Director Amber Shepperd shares more about this special service now offered at UT Health Henderson.  
Q: What is the StepOne Service at UT Health Henderson?
A: StepOne Service (SOS) is an inpatient, hospital-based three-to-five day acute withdrawal management service available to adults requiring medical management of withdrawal symptoms from alcohol and/or opioids. SOS is dedicated to continuum of care after a patient's discharge and includes comprehensive discharge planning, as well as follow-up for six months.
Q: What do you mean by acute withdrawal management?
A: Acute withdrawal management is provided to individuals who are in impending or early stages of acute withdrawal at the time of hospital admission.
The goal is to medically assist the individual through the withdrawal process through the use of scheduled medication protocols and help navigate the transition to an appropriate level of community-based addiction treatment that can address the underlying causes of their substance use disorder.
Q: Is acute withdrawal management different from detox?
A: While they are similar, acute withdrawal management is meant to medically manage the first symptoms of the withdrawal process. Detox, as the name suggests, is the process of removing toxins from the body. When it comes to drugs and alcohol, this is the process of waiting for your body to eliminate the harmful substances in it. Depending on the substance(s), full detox often takes days, weeks or even longer.
Q: What are the symptoms of withdrawal?
A: Symptoms can vary drastically based on type of substance(s) used, duration of use, frequency of use, etc., but some common withdrawal symptoms from alcohol and/or opioids include:
Nausea and vomiting

Nervousness

Irritability

Sweating

Delirium Tremens (DTs)

Diarrhea and dehydration

Anxiety

Depression

Excessive yawning

Watery eyes and nose

Sensitivity to light and noise

Strong cravings for drugs/alcohol

Pain

Insomnia or hypersomnia

Seizures

Coma
Q: What is included in the StepOne Service?
A: StepOne Service includes a) telephone pre-screening b) in-person assessment c) admission to medical unit of hospital d) acute withdrawal management e) individualized discharge planning f) post discharge follow-up for six months.
Q: How is StepOne Service different from other acute withdrawal management or detox services?
A: StepOne Service is unique in many ways. Unlike some other facilities that offer these types of services, SOS treats the patient as a regular patient on the medical floor at the hospital. This means no extreme restrictions with phone and visitation. SOS patients will receive around-the-clock medical care provided by the hospital's designated physician and nurses who are trained on the SOS. Admission to SOS is planned, thus allowing the patient to bypass the ER, and to be pre-registered, which assists with ease and promptness of admission.
Q: Who qualifies for StepOne Service?
A: StepOne Service is for individuals ages 18 and up who meet medical criteria for medical management of withdrawal symptoms from alcohol and/or opioids. He or she must be committed to remaining in the hospital until medically stable and be motivated to continue the treatment process by transitioning to a community-based addiction treatment service once discharged.
StepOne Service is covered by most insurance plans, including Medicare and Medicaid.
Q: Do I have to live in Henderson to qualify for StepOne Service?
A: No - SOS patients come from all over Texas. There are no location restrictions; however, transportation is not provided by SOS.
Q: Is smoking allowed at StepOne Service?
A: UT Health Henderson is a non-smoking campus, thus SOS patients are asked to refrain from smoking while at the hospital. A nicotine patch can be provided upon request.
Q: How do I contact StepOne Service staff?
A: The StepOne Service care coordinator can be contacted at 903-655-5654, Monday-Friday from 8:30 a.m. – 4:30 p.m. The SOS Director, Amber Shepperd, can be contacted at 903-655-5655 or via email at: ashepperd@ehp.care.
Please contact the StepOne staff with any questions – whether you are considering seeking help, know someone who could benefit from this service or are just interested in learning more.