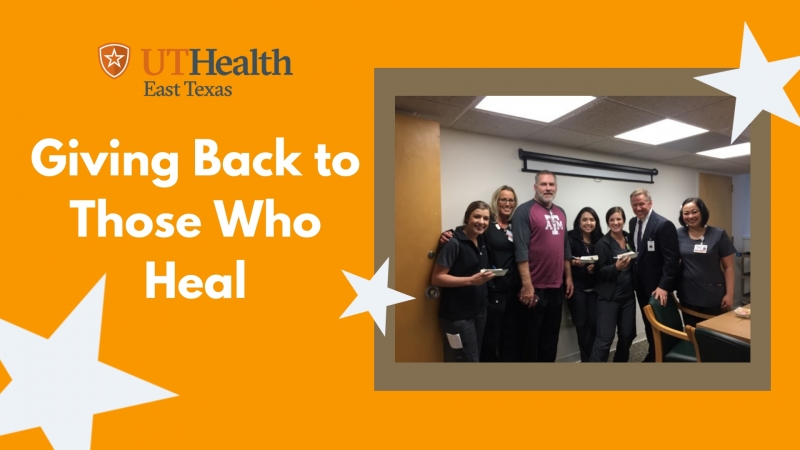 When Shawn Gonter called his boss to let him know he'd been in an accident and would be late for work, he didn't realize he wouldn't be returning to work for another six months.
Gonter was on his way to work March 13 when he was in a motorcycle accident at Troup Highway and Magnolia Drive that resulted in multiple injuries, including a broken back and the amputation of his right leg.
He was at UT Health Tyler for a month following the accident and he and his wife, Alicia, a radiology technician at the hospital, recently hosted an ice cream party to say thanks to everyone who took care of him during his stay.
"I had a traumatic amputation of my right leg, right femur fracture and broke my back and these are the people that helped take care of me during that time and I just wanted to express my appreciation," Shawn Gonter said.
Gonter said he doesn't really remember anything until several days into his hospital stay.
"You don't realize how many people take care of you. After they went back through the records to invite people for this ice cream party the list just got longer and longer," he said. "Every department is able to touch each person as they come in and you don't realize it. You just see your nurse and your doctor and that's about it but there's a lot of people behind the scenes doing their jobs to get you better."
Gonter isn't a stranger to the medical profession or the Tyler hospital. He has worked as a physician assistant for almost 30 years, including a stint at the hospital where he was treated.
"When he arrived I feel like almost half the staff recognized him as a long-term employee of this facility," trauma surgeon Jason Murry said at the ice cream party, held at nursing administration on the second floor. "He was awake and talking to us but had obvious major injury to the lower extremity and we were able to work him up really quickly."
Murry said it was nice to see Gonter in a relaxed setting and healing well after months of rehabilitation.
"He had a long course with us but was in good spirits the whole time, bounced back strong and had an amazing recovery from our standpoint," Murry said at the ice cream party. "It's great to see him, we haven't seen him in a few months."
Since his accident, Gonter and his wife have worked to raise funds to provide tourniquet kits for law enforcement officers. Such a tourniquet was used by the responding officer in his accident, and Gonter said he was within two minutes of bleeding out had the tourniquet not been applied.
Called the JD Initiative, named using the initials of the Tyler Police Department officer who applied the tourniquet to Gonter's leg, the goal is to provide other law enforcement agencies with tourniquets and training to use them.
The Gonters recently presented the Smith County Sheriff's Office with 50 tourniquets and are in the planning stages of a fundraiser at the local Harley-Davidson dealership to raise additional funds to provide tourniquets to smaller law enforcement agencies.
"We feel like if one life is saved it's worth it," Alicia Gonter said.