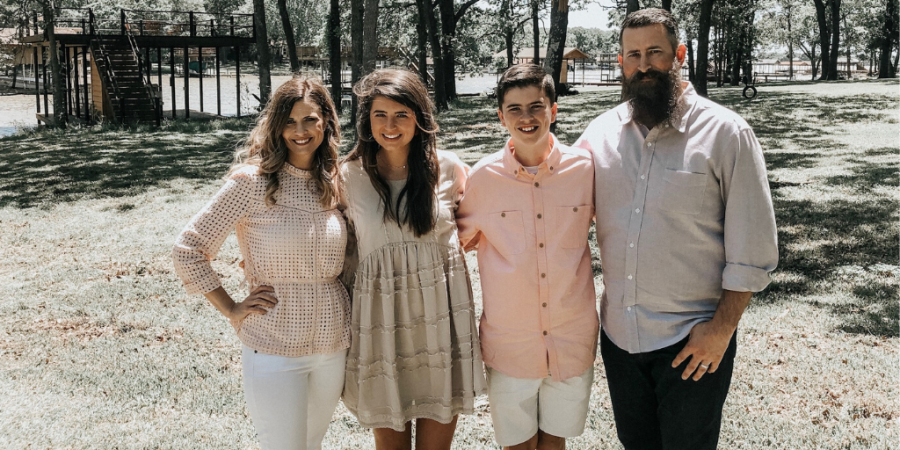 Mistie Williams, a healthy, 42-year-old wife and mother of two, was at her parents' home in Gun Barrel City with her family and friends on Aug. 31. It was her daughter's first weekend home from college, and they were enjoying their Labor Day weekend together. Without warning, everything changed.
"We were about to eat and I started feeling really weird," Williams said. "I couldn't breathe and my chest felt really tight. My stomach felt nauseous. I started feeling lightheaded and my left arm started tingling. Then I was in a daze. My mom looked at me and said 'I think you're having a heart attack.'"
They went to the UT Health East Texas at Cedar Creek Lake emergency room. Although she did not show risk factors for heart disease, the physicians recognized she was having a STEMI (ST-Elevation Myocardial Infarction), a very serious heart attack. They stabilized her for transport, and she was flown to UT Health Tyler, where the cath lab team was standing by when she arrived.
Williams' scans showed a rare condition called spontaneous coronary artery dissection, or SCAD, which is an internal tear of the artery that prevents blood from flowing to supply the heart muscle. Within an hour, she was in surgery for a double bypass.
"When she was put on the table, her heart was only functioning at 15 percent, with nearly no ability for the left side of her heart to squeeze," said Andrea Cooley, DO, Williams' cardiothoracic surgeon.
Dr. Cooley is a board-certified cardiothoracic surgeon at UT Health Tyler.
Williams lived a healthy, active lifestyle. She didn't smoke or drink alcohol, and she never used drugs.
"The fact that she even made it to surgery is a testament to her healthy lifestyle and age," Dr. Cooley said.
After being in surgery for 11 hours, Williams was placed on a temporary heart pump. At this point, her heart was still only functioning at 15 percent.
"Dr. Cooley came out and told us she did everything she could," said Sandra Pratt, Williams' mother. "She was trying to be positive, but my son asked if she was going to be OK, and what her chances were. Dr. Cooley gave her a 50/50 chance of survival. She said we needed to get her to Baylor because they have the ECMO."
ECMO is a portable heart-lung machine that can provide full support while the heart recovers. The heart failure team at Baylor University Medical Center flew the ECMO to Tyler and transported Williams to their facility in Dallas. After two days on ECMO, her condition was getting worse and she was listed for a transplant.
"When we got to Baylor, the doctors said she only had a 30 percent chance of survival," Pratt said. "Because all of her other organs were in good shape, they recommended her for transplant."
Miracles continued to unfold and within 24 hours, Williams received three heart offers.
This was "another testament to her health and also how dire her situation was," Dr. Cooley said.
"My husband had a hard time with that," Williams said. "He said 'I'm praying for you to get better and to get a heart, but I'm also praying for this family that lost their kid.' I'm grateful for the donors. It makes you think twice if you're not one."
Williams received the transplant on Sept. 9, and the recovery process began.
"Every time someone would come in, they would tell me, 'You are a miracle. This doesn't happen.'" Williams said.
"Mistie has had an incredible journey and thanks to her hard work, her family support and her positive attitude, she was able to be discharged home less than 30 days from the start of this journey," Dr. Cooley said. "She is doing wonderfully and is anxious to get back to living life to its fullest with her wonderful family and friends."
Though her journey continued in Dallas after her initial surgery, Williams and her family are grateful for the care they received at UT Health Tyler.
"They were amazing," Pratt said. "At Baylor, all the doctors and nurses kept saying that everything they did at UT saved her life."
Williams also shared, "[Dr. Cooley] even called me a couple of weeks ago just to see how I was doing."
Williams' condition is thought to be caused by a genetic mutation recently discovered through clinical research. If she is found to be a genetic carrier, it will determine if her son and daughter are at risk for this disease. This research is potentially life-saving, according to Dr. Cooley.
Though she's out of the hospital and doing much better, the recovery process is long. Between follow-up visits and rehab, Williams has appointments three to four times a week.
"We've been very blessed in our family," Williams said. "We didn't have any trauma or big losses, besides grandparents. It's been hard because this has changed our whole lives. It's a strange feeling to think 'I was almost dead. Where would my family be right now?' I have this second chance and I've got to do something with it. I just keep thinking, 'what's God's plan for me now?' There's a reason I'm still here."
This traumatic experience has changed Williams' perspective on life.
"It humbles you a lot," Williams said. "You take things for granted, like your everyday life. I had a routine that I did every day and now that's different. You never know when your life is going to change in two seconds."
UT Health Tyler is an accredited chest pain center, recognized for excellence in treating patients with heart attack symptoms. For more information on heart care and other healthcare services, visit UTHealthTylerHospital.com. If you are experiencing symptoms of a heart attack, call 9-1-1 immediately.
This story was featured in the Tribute to Courage section of the December/January TYLER TODAY issue.