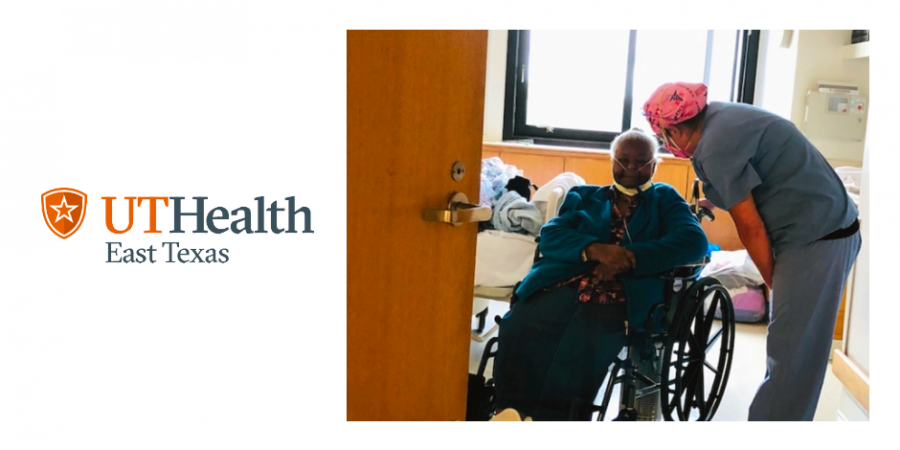 Shenna Rougely's cell phone has been her lifeline the past few months, capturing heartbreak and triumph in the span of a few short weeks.
It is how she and her two siblings stayed in touch with doctors and nurses while both parents battled COVID-19, how she said goodbye to her father before he succumbed to the virus and how she documented her mother's return home after 101 days at UT Health Tyler.
Scrolling back through her phone presents a brief timeline of the highs and lows. Rougely has a video from early March showing the joy of her parents, Raymond and Vearline Rougely, exchanging a kiss on her mom's 80th birthday. By late April, she used the phone to stay in constant communication with doctors and nurses as both parents fought COVID-19, and by mid-May, it was on that phone that she received the news her father had passed.
The day before he died, Rougely taped their video chat during which she told him, "Dad, it's OK. If you need to rest it's OK."
Rougely was on her way to the hospital the next day when she got the call from a nurse, who made sure Rougely got off the road before she delivered the news.
"She said he took his last breath. She said she held his hand and told him we loved him she prayed with him and was with him," Rougely said. "I didn't want him to pass away alone and he didn't."
Rougely credits the doctors and nurses at UT Health Tyler for providing her information she so desperately needed about her parents' status, as well as providing the care and comfort that they needed as they fought the virus. Because visitors were restricted on the COVID-19 unit, Rougely couldn't see her parents but often stood outside the hospital to pray for them.
"I talked to Dr. (Megan) Devine every day. Every day she called me with an update on my mom," Rougely said. "Dr. Devine said, 'There's just something about your mom, we're going to fight this.' She was dead set on fighting for my mom."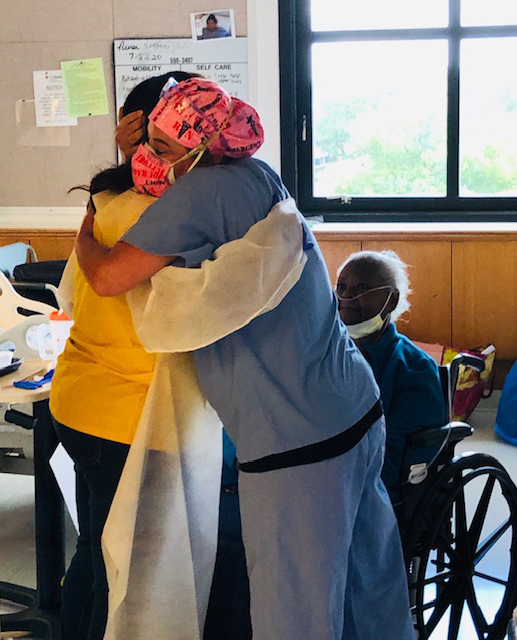 Dr. Devine's assessment was correct. Vearline Rougely is a fighter. She eventually was taken off the ventilator and slowly started to regain her strength. With the help of physical therapy, she started to walk.
Shenna and her brother, Dennis, and sister, Hazel, were kept informed of their mother and father's progress through phone calls and video chats.
"We had a conference call with the nurses in the morning, midday and in the evening. Not one time did they get tired of us," Shenna said. "They were so patient. They explained everything. They took the time to answer my questions and explain to me the medical terms and what all of it meant for my mom."
Shenna said she is especially grateful caregivers were sensitive to the family's desire to tell their mother about their father's death once she was out of the hospital.
"No one said anything to her out of respect for us," she said. "We felt like if she knew before she was ready and strong enough, we were worried she may not fight as hard. We wanted to protect her, and we wanted to give her every opportunity to recover from this horrible disease."
Noralea Page, the critical care nurse who treated Vearline Rougely when she first arrived on the COVID unit, said being in such close contact with the family creates a strong bond. She recalled holding the phone for video chats during which Shenna would sing and pray for her mother.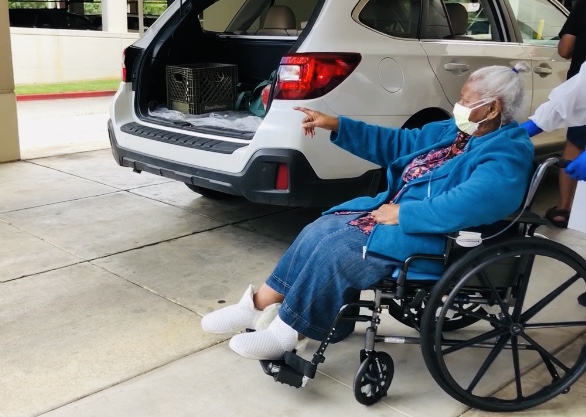 "I think she knew she had something to fight for because her kids were fighting for her," Page said of Vearline.
It wasn't until late July that she would finally meet Shenna in person on the day Vearline was discharged from the hospital. The two embraced and shed happy tears as Shenna recalled a time a few weeks earlier when the tears were filled with grief as she worried her mother wouldn't make it.
"That right there is what makes it worth it," Page said of Vearline leaving the hospital with her daughter. "This patient that you thought wasn't going to make it and is now going home, there's no way to describe it. You can't describe the way that you feel."
Now at home, Vearline is off the oxygen she was sent home with, is walking around her house with the help of a walker and is even back to her old routine of making breakfast. She's singing and ready to start playing her guitar again, something she previously did at her church.
"I honestly look at her in awe and amazement," Shenna said, "and when I look at her I think about how strong she is despite what happened."