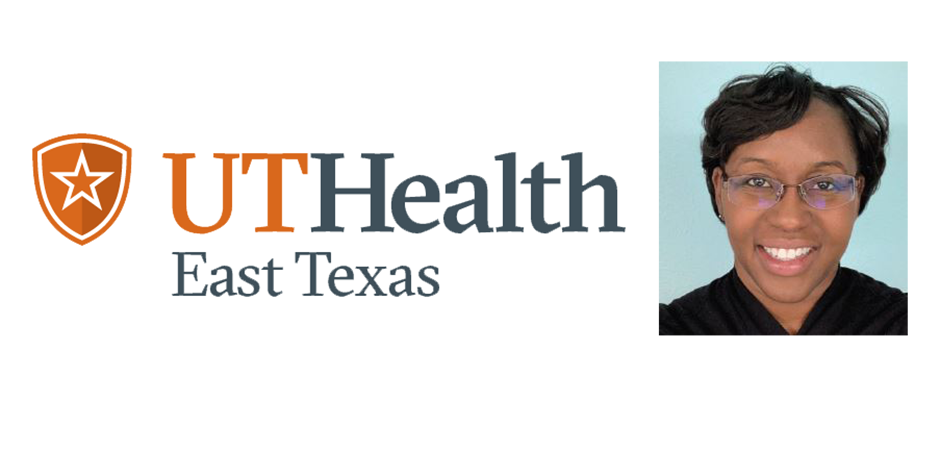 Evelyn Joseph is the director of Pharmacy at UT Health Carthage and UT Health Henderson. She is a member of the Ardent and the UT Health East Texas Diversity and Inclusion Council.
Evelyn Joseph was intrigued by healthcare even at an early age, often carrying around a bag with bandages in it as a young girl.
Evelyn got her heart for healthcare from her grandmother, Evelyn W. Joseph, who was a civilian licensed vocational nurse for the United States Air Force.
"She was an example of someone who cared about her family, community and those she served in the United States Air Force," Evelyn said.
Evelyn attended the High School for Health Professions, and was first exposed to healthcare during her sophomore year internship at Medical City Dallas, and then later a paid pharmaceutical internship at Presbyterian Dallas.
"It was amazing to see the team of caregivers work together to provide each patient with their needed procedures… My fate was sealed at that point, although I didn't know it."
With the intention of being pre-med, Evelyn graduated from El Centro Community College with her associate's degree then headed to Texas Southern University, where she received her bachelor's degree in chemistry.
"I spoke to my mentor at the time, who was a pharmacist, and he said, 'Why don't you go to pharmacy school?' I applied got in, and the rest is history," she said. "I think it's divine intervention. That's where my whole career path took a change."
She switched majors and remained at Texas Southern University for four more years, earning her second degree, a bachelor of science in pharmacy.
Evelyn said her why is to really be there for the patient.
"That patient focus, that's where it all starts that's why we're all in the healthcare field. It starts with wanting to be that conduit to the patient to help them get to the outcome that's needed," she said. "When it comes to pharmacy, there's a lot people don't know about medications and drugs. I feel like it's my purpose and duty to provide information not only to the patient, but their family as well."
Joseph said one of the most important parts of her job is making a connection with patients — ensuring she understands what the patient is asking and explaining the answer in a way they understand. She's now a preceptor in pharmacy, teaching students the valuable lessons she once learned when she was in their shoes.
"I remind my students that you have to learn word associations and you have to realize that there are things you will not be taught in school. It's up to us to dig and figure it out," she said. "I can't tell you how many times patients come into the pharmacy and ask you questions that are huge and pivotal."
Evelyn said she is constantly working to educate herself, which is why she welcomed the chance to serve on the Diversity and Inclusion Council for both Ardent and UT Health East Texas.
"I said that would be an awesome opportunity for me to get educated and get in there and learn because I had never been involved in something like that. I saw it as an opportunity to learn and to grow myself personally," she said.
"I've been in Texas my entire life and there are so many things from a race perspective that have affected me and my family. I welcome the opportunity to learn more and hopefully start having discussions with people about the real issues and the opportunity to make changes with the institution."
Evelyn said the Diversity Council provides a safe environment for meaningful discussions.
"I feel like I have a forum where I can be heard, and that's half the battle," she said. "We have to figure out a way to get others to feel that way."