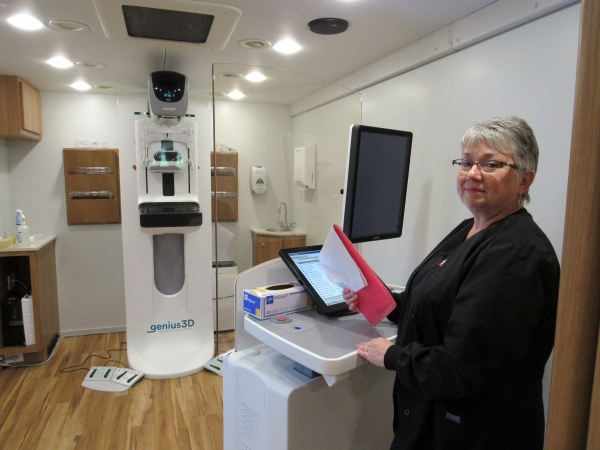 A few steps across the parking lot is all it took to get a screening that might save a life.
Friday marks National Mammography Day, but employees of Southside Bank on Thursday were able to celebrate the benefits of mammography by taking advantage of the UT Health East Texas mobile mammography coach parked at the bank's South Beckham location.
The brand new coach started operating in September with 3D technology, which combines multiple breast X-rays to create a three-dimensional picture of the breast.
"Screening mammography can find something sometimes up to five years before you can feel it," mammographer Ellen Stokes said. "With 3D we get much more precise imaging and can catch cancers and abnormalities even quicker than the 2D."
"Digital Breast Tomosynthesis, aka 3D mammography, is the latest advancement in mammography," agrees Dr. Brandon Ashton, radiologist at UT Health East Texas. "It is quickly becoming the standard of care for screening exams in the US. Thankfully in Texas, private insurers, who insure women over 35, are required to cover this exam. Medicare also covers this exam."
The entire screening process takes about 20 to 30 minutes from the time a patient enters the coach to the time they leave.
Stokes said patients have told her they hadn't had a mammogram in more than 10 years but were able to get one because of the convenience the mobile coach brings. The coach covers the greater East Texas area and operates five to six days each week, serving 20 to 25 patients a day.   
Gerri Warren, Southside Bank's benefits coordinator, said she schedules the coach to come to Southside every year and never has trouble filling the spots.
"I feel it's important and I feel we have a lot of people that are so busy working that they're not going to stop or they'll say 'I'll do it next month' and then something else happens until the year is gone," Warren said.
Suni Davis, Southside's chief risk officer, was one of the employees who got her annual mammogram Thursday.
"To walk over here during the day while I'm at work is super convenient," Davis said.
To schedule your yearly mammogram, contact 903-596-DOCS