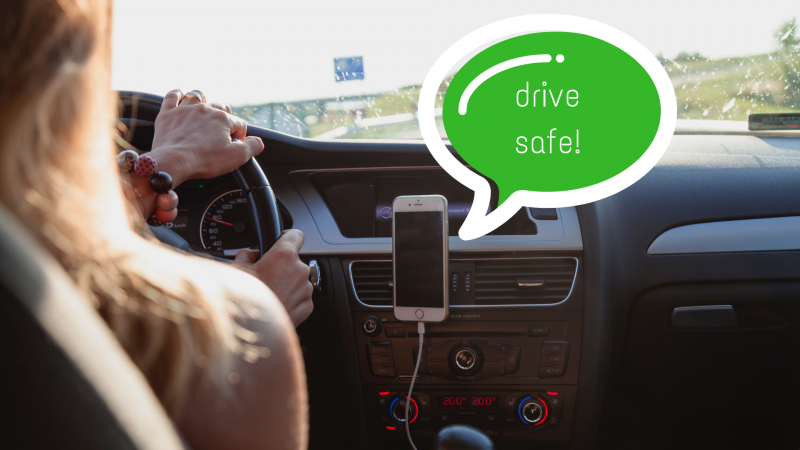 This time of year comes with a lot of time spent on the road. People are rushing around finding gifts, picking up last-minute dinner ingredients and driving to see their loved ones. With this amount of people on the road, plus the potential for distractions, it's important that you do all you can to drive safely. Whether you're driving 15 minutes down the road, or 15 hours to another state, alone or with a load of kiddos in the back, you should always practice safe driving.
SAFE CAR
Make sure your car has a maintenance check before hitting the road! Get an oil change, check all fluid levels, replace old wiper blades, make sure all lights are working and test your battery.
Check your spare tire and replace it if needed. Also keep a jack and a tire iron in the car.
Prepare an emergency kit. Include first aid supplies, blankets, gloves, jumper cables, flares, extra food and water.
Get all the gadgets you need, plus their chargers in the car. You might also want to pack an old fashioned map, for those times when your cell reception fails.
If you're in a rental car, take a few minutes to familiarize yourself with its features, especially where the wipers, turn signal, cruise control and headlights are all located.
SAFE DRIVER
Get a good night's sleep before getting behind the wheel. If you're ever feeling drowsy during the drive, pull over. Over 100,000 accidents per year are attributed to drowsy driving, according to the National Highway Traffic Safety Administration.
Be aware of your surroundings. Check further down the road than just the car in front of you.
Don't touch your phone. If you are paying attention to your phone, you can't be paying full attention to the road. Checking a text can wait until a refuel stop.
Play defense. Stay at least two seconds behind the car in front of you. Double that space if the weather is bad. It's best to assume no one else is paying attention – it's on you be stay safe.
SAFE PASSENGERS/KIDS
Make sure your child's car seat or booster seat fits them properly. If not fitted to the child or the car correctly, a car seat won't protect them fully. You can set up an appointment at UT Health EMS to have the car seat checked by a Certified Car Seat Technician.
Child-proof the back seat. Clean up the area and remove any liquids, items that could be swallowed and secure anything that could fly forward in the event of a sudden stop or accident.
Go with kids during bathroom stops. Remind them not to speak to strangers.
Have games and snacks at the ready! Snacks such as fruits, vegetables, protein bars and nuts are not only healthy, they will help give the driver an energy boost as well.
The holidays are a wonderful time of year and getting to see your loved ones is a big part of that. Make sure you arrive safely by always practicing safe driving.
Happy Holidays!