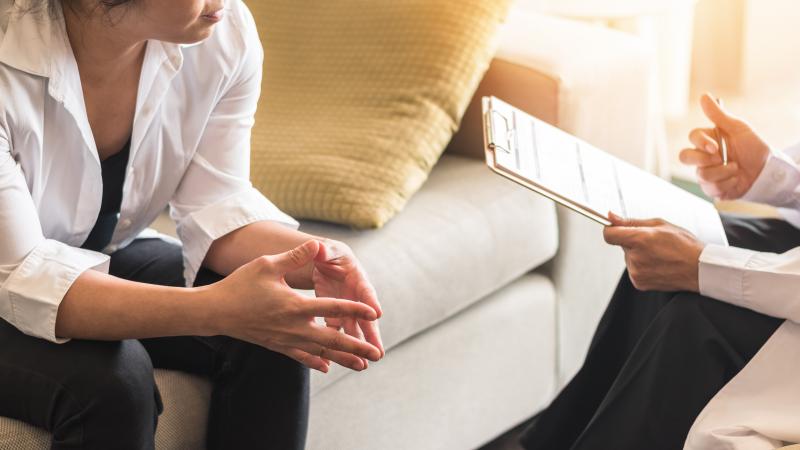 Mental illness, including depression, can affect anyone, from a 22-year-old woman to a 73-year-old man. However, many people who might be suffering through depression avoid seeking medical help due to uncertainty or the stigma that surrounds this illness. To eliminate this negative stereotype, it's important that everyone take the time to learn more about depression, whether to recognize the signs in someone we care about or to determine if you should get screened.
Dr. Crystal Frazier, a psychologist at UT Health and assistant professor in the Department of Psychiatry and Behavioral Medicine, answered some questions to help shed some light on this important issue:
Depression is an illness that involves brain chemistry and can arise in response to many factors including family genetics, medical illnesses, and a person's life experiences such as trauma, loss of a loved one, a difficult relationship or any stressful event. However, some people may not be able to identify the cause of their depression.  Depression can affect your mood, thoughts, behaviors, and day-to-day functioning.  It's different from a case of the blues or sadness, which is a common reaction to difficult times that usually passes with time.  Depression can linger indefinitely, and people often need treatment to get better.  
How common is depression?
Depression is among the most common mental health disorders in the United States. This disorder can arise at any age but commonly begins in the teens, 20s and 30s.  In 2016, approximately 16.2 million (6.7%) of adults and 3.1 million (12.8%) adolescents aged 12 to 17 in the United States had at least one major depressive episode. 
Why should a person get screened for depression?
Depression is a serious mental illness that can worsen and, in some cases, can lead to thoughts about suicide or attempts to commit suicide.
In Northeast Texas, it is estimated that 85,000 individuals live with a serious mental illness. However, screening is important because some people do not recognize the signs of depression or they may attribute their symptoms to another illnesses. Some might believe depression is a normal part of life or they may think they simply have "the blues." Others may not tell anyone for fear of being judged or labeled as weak.
When should a person get screened for depression?
If you are experiencing one, some or all so of the symptoms listed below for at least two weeks you may be experiencing depression and should get screened.  Screening can be completed during an appointment with your doctor or primary care provider.
Symptoms:
Feeling sad, tearful, empty, or hopeless most of the time (children and teens may feel irritable)

Feelings of guilt or worthlessness

Loss of interest or pleasurable hobbies and activities you once enjoyed

Trouble sleeping, paying attention, loss of ability to concentrate

Tired a lot, lack of energy to start an activity

Loss of appetite or frequent overeating

Thoughts of suicide, death, or ending your life
If at any time you are thinking about committing suicide, thinking about ways to commit suicide, or planning to commit suicide, please get help immediately. Tell a loved one or call the national suicide prevention lifeline at 1-800-273-8255 (1-800-799-4889 for deaf or hard of hearing), call 911 for emergency services, or go the nearest hospital emergency department.
What would you say to someone who is thinking about getting a screening? Is there any way to relieve fears?
Millions of adults and adolescents experience depression at some point in their life. So, you are not alone. Screening can be performed confidentially and in the privacy of your primary care provider's office.  
If you think you might be suffering from depression, make an appointment with your primary care provider for a depression screening. Your provider can help with explaining the symptoms you are experiencing and work with you to determine the treatment options that are right for you.
How should someone prepare for a depression screening?
To prepare for your appointment to complete your depression screening make a list indicating when your symptoms started, how bad they have been during the past two weeks, whether you experienced the symptoms before and whether you were treated for your symptoms in the past. Bring all medications you take currently to your appointment. If you are unable to bring the medications, write/type a list of medications and bring to your appointment. Be prepared to share information about major life events or recent stressors. It may be helpful if you write a list of questions you want to ask your health care provider.
Where can you get screened for depression? Can you see your primary care physician?
Primary care providers including physicians, psychiatrists, physician assistants and nurse practitioners at UT Health East Texas can screen patients experiencing symptoms of depression. During your appointment you may be asked to complete a brief questionnaire to identify and measure the severity of your symptoms. Your provider will ask questions and talk to you about your symptoms. A physical exam and lab tests may be ordered to rule out other conditions that might cause depression. Be sure and ask questions and share any concerns about information discussed during your appointment.
What's happens after a screening?
Your primary care provider, with your help, will develop a plan for treatment that may include medication such antidepressants, or a referral for psychotherapy (talk therapy with a licensed mental health professional such as a psychologist or counselor) or some combination of both.
Antidepressants are medications used to help reduce the symptoms of depression. Your primary care provider will select the appropriate medication based on your symptoms and other factors including your medical conditions, other medications, and possible side effects.
Psychotherapy can help you understand your depression, your associated thoughts and behaviors, and teach you skills to cope and manage your symptoms. You and your primary care provider can determine which course of treatment will work best for you; medication, psychotherapy, one or the other or both.
What is something you wish anyone thinking about getting screened knew?
Depression is a real illness, it is not a sign of weakness or a lapse in character.  Depression is treatable, and screenings can be done during any routine primary care appointment. You are not alone, and we care about your wellbeing. Most importantly, people living with depression can lead full, robust and meaningful lives.
What services are available to treat depression at UT Health East Texas?
Screenings for depression in children, teenagers and adults can be performed by primary care providers across the UT Health System, which includes a regional network of hospitals, clinics, freestanding emergency centers and urgent care facilities in East Texas. Specialized treatment for depression is available at our UT Health North Campus, the UT Health Behavioral Health Center, and at some outlying clinics.
Our team of licensed mental health care providers includes psychiatrists (who are physicians), psychologists, clinical social workers, counselors and other trained staff, who are dedicated to providing comprehensive and compassionate inpatient and outpatient services.
For more information about the mental health services available at UT Health East Texas, please visit our website at https://uthealtheasttexas.com/. To schedule an appointment for a depression screening, call us at 903-596-DOCS or see your primary care provider.
---
Dr. Crystal Frazier is a doctoral level trained Licensed Psychologist with extensive education in clinical psychology. She is an assistant professor in the Department of Psychiatry and Behavioral Medicine and a member of the doctoral psychology internship program training committee. Dr. Frazier has managed her own psychological services practice where she provided care to older adolescents, and adults. She has a special interest in caring for patients struggling with anxiety, depression, and trauma related symptoms. She is passionate about helping clients complete the often very challenging therapeutic work and helping them achieve their goals for positive life changes. Patients can see Dr. Frazier by appointment in our Adult Psychiatry Clinic.
---
Sources:
Depression Basics. National Institute of Mental Health.

https://www.nimh.nih.gov/health/publications/depression/index.shtml

Depression: What you Need to Know. 2016-2017. World Health Organization.

//www.who.int/campaigns/world-health-day/2017/handouts-depression/what-you-should-know/en/

DSM 5 - Fifth edition of the Diagnostic and Statistical Manual of Mental Disorders. American Psychiatric Association, 2013

National Survey on Drug Use and Health (NSDUH) 2016

. National institute of Mental Health.

https://www.nimh.nih.gov/health/statistics/major-depression.shtml

Healthfinders.gov. U.S. Department of Health and Human Services. Talk to you Doctor about Depression.

https://healthfinder.gov/HealthTopics/Category/doctor-visits/screening-tests/talk-with-your-doctor-about-depression

You Don't Have to Live with Depression. UT Health Northeast. Brochure

UT Health North Tyler Campus, Behavioral Health,

https://uthealthnorth.com/services/behavioral-health