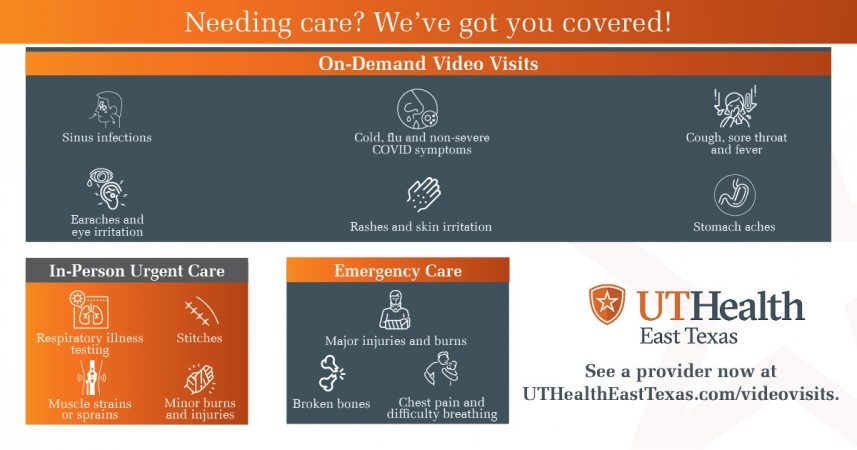 When you are sick at home and cannot get out to visit a healthcare provider, there is now a service that helps you get personalized healthcare in the comfort of your own home: on-demand video visits.
Leah Dixon, chief operating officer of UT Health East Texas Physicians, said the service is convenient and very easy to use — individuals just need to have a strong internet connection and a computer, smartphone or tablet.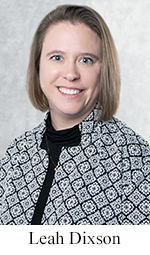 "On-demand video visits are a convenient way to quickly see a UT Health East Texas provider for common urgent care needs without having to travel to an office for high-quality care," Dixon said. "Think of it as urgent care via video wherever you are."
Dixon said on-demand video visits have been well received by patients and providers. Since the launch of on-demand video visits, UT Health East Texas has helped more than 540 patients receive fast, convenient care.
The most commonly reported symptoms during video visits are related to respiratory illnesses, rashes and urinary tract infections (UTIs).
Patient outcomes have been successful, Dixon said, recalling a serious health issue that was caught by a video visit 10 days after the service launched.
This particular patient used an on-demand video visit and the provider became concerned once the patient described the pain they were having. The provider sent the patient to the closest UT Health emergency department and the patient ended up undergoing a successful emergency surgery.
"This is a great example of continuum of care, as well as the telemedicine provider listening and recognizing the issue even without having hands on the patient," Dixon shared.
Please note that on-demand video visits should NOT be used if you are experiencing a medical emergency. For all emergencies, please call 9-1-1.
"With this service, we are working to respond to our patients' preferences of how they want to connect with our providers. On-demand video visits have proven to be a great option that gives people access to our vast network of skilled providers providing high-quality care," Dixon added.
"Given the post-pandemic trend of healthcare, more and more patients are utilizing telemedicine services," said Abby Lovell, a family nurse practitioner who works as a telemedicine provider through on-demand video visits, as well as seeing patients in person at UT Health East Texas Physicians South Broadway walk-in clinic. "COVID has created a culture where patients want to be seen on their time, in their homes and offices, with the many conveniences telemedicine visits can provide."
UT Health East Texas offers on-demand video visits for patients ages 2 and above. On average, patients will see a provider within 30 minutes of beginning a video visit.
Hours of operation for on-demand video visits are the same as those at the South Broadway walk-in clinic: 7 a.m. to 7 p.m. Monday-Friday, 9 a.m. to 4 p.m. on Saturday and noon to 5 p.m. on Sunday. Visit costs are covered as co-pay by most insurance plans, including Medicaid.
Start an on-demand video visit now at UTHealthEastTexas.com/videovisits.