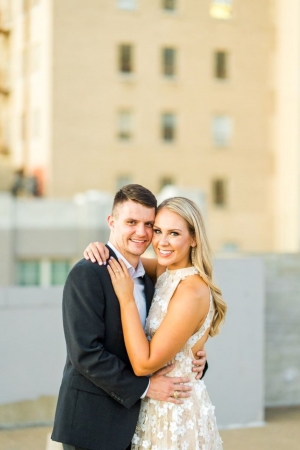 When Garrett Pendergast worked as a facilities analyst at UT Health East Texas, he spent more time with numbers and budgets than anything having to do with patient care. His experience with the health system changed dramatically one night last fall when he went to the South Broadway Emergency Room and was diagnosed with a brain tumor. 
Garrett joined UT Health East Texas in March 2021 as a facilities analyst, keeping track of budgets, including those for facilities, utilities and construction projects. He had recently graduated from Texas A&M University and was looking to move closer to his now fiancé, Mallory Fuller, who was living in Tyler before her duties as Miss Texas required her to travel the state for speaking engagements the year she was crowned.
Garrett, 25, proposed to Mallory in July, a month after she had moved back to Tyler, and the two were happily starting to plan their September 2023 wedding. He had just taken a new job at a local accounting firm when he began experiencing persistent headaches, lack of coordination and tingling in his arm. 
"I had Googled the symptoms and one of the things that came up was brain tumor," Mallory said. "We both were concerned, but we were like, 'Nobody has a brain tumor at 25, it's probably just a sinus infection.'" 
However, when Garrett's leg started tingling and he just didn't feel right at dinner one Saturday night in October, they went to the Emergency Room at UT Health East Texas on South Broadway.
"Pretty soon, sooner than we thought, we got pulled back into a room and the doctor there came in and told me that they had found a mass on my brain. They took me by ambulance to the main hospital and got me into the Neuro ICU," Garrett said. "I can't say enough about the nurses there. All of my nurses were great, they took really good care of me."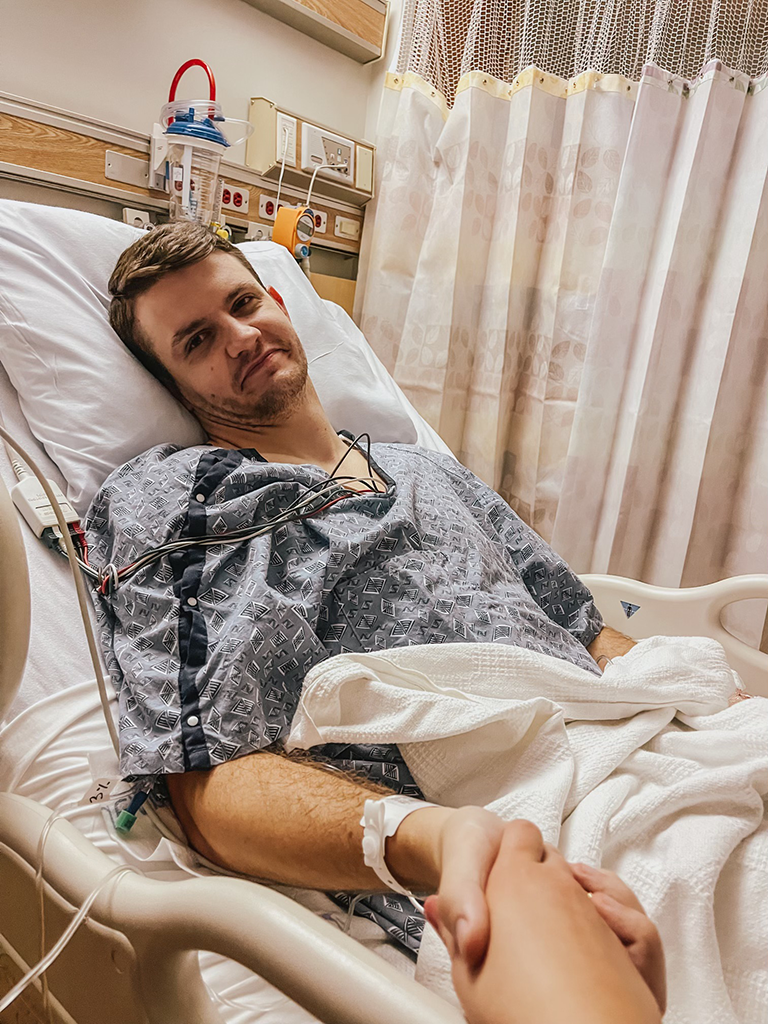 During his stay in the hospital, Garrett's spirts were lifted by his former coworkers from the facilities department, who visited, brought lunch and helped keep his mind off the brain surgery he was about to face.
"He was a dedicated employee and I can't say enough good things about him," said Garrett's former boss Thomas Moss, UT Health East Texas market director of facilities. "Everyone just loved him, he got along with everybody." 
Garrett went home two days after surgery only needing to take Tylenol for pain. The surgery went extremely well and the hope was that the mass was benign. When pathology results that came back a few weeks later revealed cancer, Garrett and Mallory were devastated. 
He has since undergone 30 rounds of radiation and 42 rounds of chemotherapy, which he completed in late January. 
"It was actually a lot easier than I thought it was going to be," Garrett said of his treatments. "I worked out every day. I went on a five-mile walk every day. I felt almost normal." 
He faces additional chemotherapy treatments that should conclude six weeks before his wedding. 
"We'll see what happens now," he said. "I'm trusting that God has a plan, that it's going to be OK."