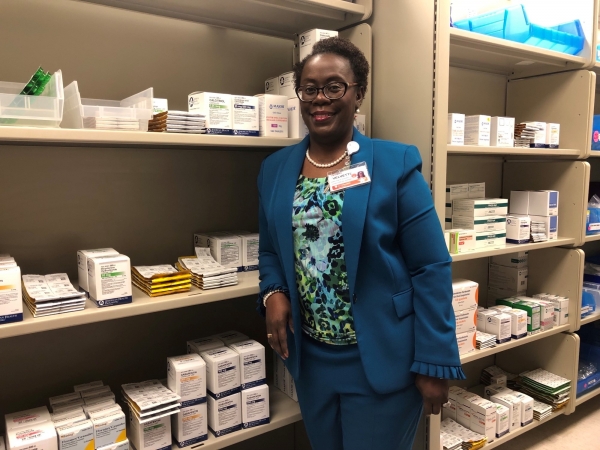 As we celebrate Black History Month, we're spotlighting our caregivers, the diversity they bring and the difference they make at UT Health East Texas.
Velvette Davis prides herself on being a role model for others, just as those in her life have been for her.
In fact, it was Davis' cousin, six years her senior, who inspired Davis' healthcare career in pharmacy. Even though that cousin didn't finish pharmacy school because her career took a different path, Davis is proof of the impact of such role models. And she hopes she's paving that path for the next generation.
"One thing that I pride myself on, and I think about it especially with this being Black History Month, is that every director's role that I've had, I've been the first African-American in that role so not only the first female, but also the first African- American," said Davis, director of pharmacy for UT Health Tyler. "For me that's something I'm very proud of."
Davis sees the strength that diversity — in all aspects — can bring to a team.
"I believe it provides a different perspective," she said. "I'm a firm believer in too much of any one thing is never a good situation because you cannot learn from everything being the same."
Davis said she has made a point to hire members for her team with a variety of work experience, including those who have only worked in retail pharmacy, because of the different perspective a fresh set of eyes can bring to her team.
"I pride myself on diverse departments and diverse organizations," said Davis, who attended the University of Houston and received her pharmacy degree from Texas Southern University, an HBCU. "I like to have a sprinkle of everything because we can learn from every culture, from every individual."
Davis, who is nearing her one-year anniversary with UT Health Tyler and her 30th anniversary in pharmacy, said she has been extremely impressed with the UT Health leadership team.
"My journey here has been great. The leadership team has been truly phenomenal," she said. "That's important to me, to have a great culture, and have those clinical- and evidence-based protocols backing your decisions."
She said the leadership team is driven to have successful outcomes and to be the primary healthcare provider in East Texas, something she said will be bolstered by The University of Texas at Tyler's new  medical school, set to welcome its first class in June 2023.
"There's excitement about the medical school and what it can do for the community. Our leaders look at that as an opportunity to better treat our customers, our patients and serve the community," Davis said. "For me, that has been a driving force for me saying yes, I want to stay here."
Davis said Tyler has always been near and dear to her heart. She recalls growing up a tomboy in Waco, Texas, where her family's home sat across from two housing projects, and cherishing trips to Tyler with her dad to watch Waco High play John Tyler High School.
"I told my dad when I was young that I want to live here because I want to know what's behind the trees," she said.
Having lived in Tyler for almost a year, Davis said she has her answer. "There's definitely a pine curtain and behind the trees are wonderful people and a wonderful community."