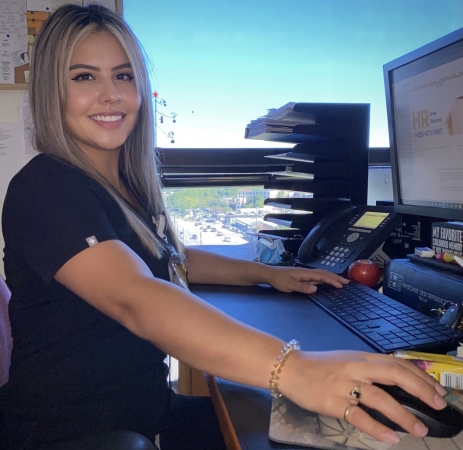 Mary Urieta, orthopedic clinic supervisor at UT Health Tyler, still remembers how being in the hospital made her feel when she was 8 years old. While many kids that age might feel scared, Urieta remembers the hospital as a place where she and her parents felt accepted and valued, like they belonged.
Urieta's family emigrated from Mexico to Texas when she was just 7, and she remembers how different she felt because her family didn't look or talk like everyone else. She vividly recalls the faces people would make at her mother in the grocery store when they heard her speaking with an accent.
"But at the hospital, they didn't treat her differently. They took time to explain what was going on, all the doctors and nurses did," Urieta said. "At my young age, I thought, 'Wow, my parents matter to others, too.'"
Urieta and her family spent countless hours at the hospital after her brother was born several weeks premature, and it was through those early interactions that Urieta decided she, too, wanted to work in healthcare one day.
"At a very young age, looking at the healthcare system and the way the doctors and nurses treated my parents with dignity and respect, I thought 'I want to be in a place like this,'" she said. "Healthcare is a business that brings focus on helping people, oftentimes in their most vulnerable state. They come to us anxious, sick or needing help, and it's an opportunity for us to get personal and help them through their journey, just like my parents."
By the time Urieta graduated from Chapel Hill High School, she also had earned an associate degree in biology through dual credit courses with Tyler Junior College and received her a medical assistant certificate, leading her to a position in the hospital's neurology department. While she enjoyed her job, she knew it wasn't her calling. With the help of mentors at the hospital, Urieta ultimately moved to the orthopedic clinic and discovered her purpose.
She became a certified registered orthopedic technician, allowing her to help with casting, sutures and splinting, but said she gains the most fulfillment out of supervising the busy clinic, which has more than 30 employees.
"I think it's rewarding because I get to experience everything. I get to manage a clinic and help to provide the best care. I get to see patients happy, my staff happy and the organization get better," she said.
Urieta also is helping the organization get better through her work as a member of the UT Health East Texas Diversity, Equity and Inclusion Council.
"It's made a big difference to have our employees and patients feel respected and valued and represented," she said of the DEI Council. "A lot of us are exposed to multiple perspectives, so when these various perspectives come together, we can open doors to innovation.
"When you put people together that see the same thing but in different ways, you can improve a lot in my opinion."