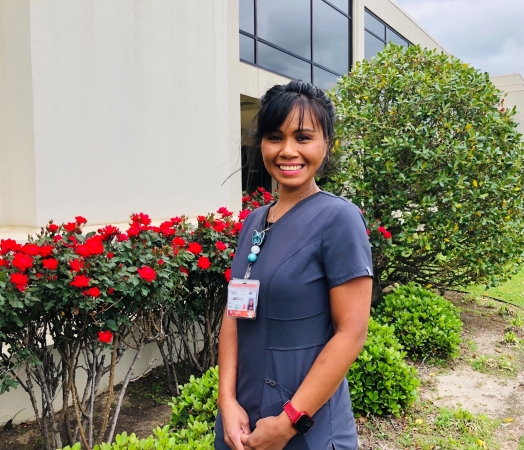 Janice Blancad, RN, brings a servant's heart to her job as an intermediate care nurse at UT Health Tyler. Blancad said her biggest achievement is making a difference in someone's life. She does that by being present for her patients — actively listening to them and frequently checking to make sure they have what they need. Blancad said it's also important to walk into a patient's room with a smile and to show that you care about them.
"I want to be the light for my patients, their families, my coworkers and for everyone I work with because you just never know what someone is going through," she said. "I am proud that I can make a difference in people's lives. Even in their darkest times, I can still make them smile."
Blancad's interest in healthcare began at age 11, when her mother passed away from a brain aneurysm. Her experience with hospital staff when her mother was dying was not a good one, and Blancad said that's what led her toward the path of healthcare — to make sure others didn't have the same experience.
"I said I want to be that nurse who will listen to my patients and advocate for them," she said.
Blancad said she grew up poor in the rural northern Philippines and studied to become an LVN after she moved to the United States. She worked in home health and nursing homes for several years before going back to school to become a registered nurse.
She said as a nurse it's important for her to treat patients with dignity and respect. "I take care of them like they are my family and the way I want to be taken care of if I or any of my family members end up the hospital."