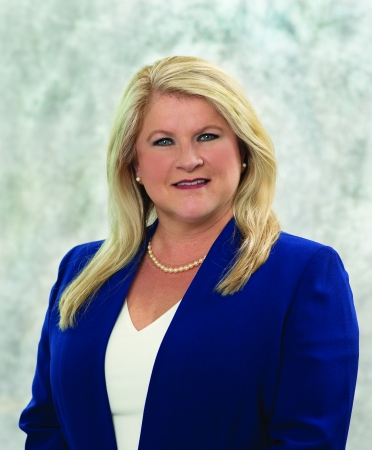 As we mark this International Women's Day, we celebrate all of the amazing women who are a part of UT Health East Texas.
From a very young age, there were signs DeLeigh Haley, UT Health Jacksonville CEO, might end up in healthcare. 
As a Whitehouse Elementary School fourth-grader, Haley chose to portray Clara Barton, founder of the American Red Cross, on historical figures day at school. The tug toward healthcare became stronger in college, where she was studying art history, when she took a job as a file clerk in the lab at Nan Travis Memorial Hospital in Jacksonville. 
"That progressed with the pathologist and others in the lab taking an interest in me and my desire to learn, and I became a certified phlebotomist and lab assistant. That transitioned into me going to nursing school," Haley said.
Haley said the desire to serve others probably derived from her father, a retired United Methodist minister. 
"My whole life I have seen him care for people at the best of times and the worst of times and their families in those times. That's work I thought was worth continuing in this environment as well —whether that's a trauma in the ER or a new baby being born, I still have connection to that here," she said. "I saw that my whole life, taking care of people not only at their best and worst times, but also taking care of all kinds of people. We treat everybody the same at this hospital, they get the same care. I aspire to make sure everyone has the same access to high-quality care."
Despite Haley's love for bedside nursing, she worked her way up to administration after seeing the benefit her clinical knowledge could make there.
"To me it's a very rare combination, especially in the administrative world, to have someone who truly understands the operational side and the administrative side," she said. "I felt I had a unique skillset and point of view to navigate and mediate in between the clinical world and operational and business world to help not only the patients but also the nurses and providers."
After spending time as director of business development/COO at the Jacksonville hospital, she eventually took over as CEO, putting her in a rare class, as only 13% of healthcare CEOs are females. 
"Women have so much to offer in healthcare because of their experiences. We have very unique points of view," Haley said. "I am sometimes the only female in the room, so you have to get very comfortable in your own skin. You have to understand that nothing is personal.
"I think there is power in being the only female in the room," she added.  "You have a different point of view. You have the one point of view that may be different from your coworkers, and everybody's voice needs to be heard."