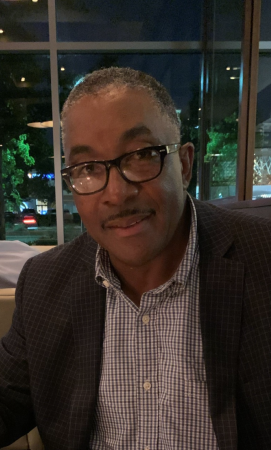 As we celebrate Black History Month, we're spotlighting our caregivers, the diversity they bring and the difference they make at UT Health East Texas.
David Knowles approaches his job as a human resources director much like a team sport, focusing not only on the individuals, but also on the team as a whole. 
Knowles' time as a star football player in Hondo, Texas, and then briefly in the NFL playing for the Houston Oilers in the 1980s, taught him the value of team dynamics early in life, and those lessons learned on the field have carried throughout his career. 
"Healthcare is such a dynamic industry in that it requires teamwork and the support of many," Knowles said. "Our efforts to support the health of others crosses all barriers and requires the active involvement of all lifestyles in order to truly make a difference and to support differences in life."
Knowles wasn't always in the healthcare field, having started out in the technology industry with Electronic Data Systems, where he worked for two decades. During his time there, when he was working as a call center manager, Knowles had to tell more than 20 people on his team that the contract they had been working on had not been renewed, so they were going to have to find another job.
"Twenty-three of my employees were going to be impacted by that contract going away, so I spent time with all 23, conducting one-on-ones, rewriting resumes, teaching interview techniques, going through mock interviews with them until ultimately all of them found jobs," Knowles said. 
That dedication to employees caught the eye of company leaders, and within a year Knowles was working in human resources. "I've been in HR from that point forward," Knowles said. 
He spent more than 15 years at Children's Medical Center Dallas and several years at Parkland Memorial Hospital in Dallas before moving to UT Health East Texas in 2020 during the height of the COVID-19 pandemic. 
"That was a really difficult, tough time, but we made it through," he said. "You have to have perseverance and you have to have a servant mentality to work in healthcare."
Knowles said the most fulfilling part of his job is the people and his role in helping them succeed. 
"It's about relationships. It takes all of us to make it work. It's really hard work and there's many opportunities to get into a slump, and part of my job is to keep employees up, keep them moving forward and achieving," he said. "What's so rewarding is to see the success of assisting and helping one another."
Knowles also feels passionately about his role on the Diversity, Equity and Inclusion Committee. 
"Our employee population base should be somewhat of a mirror of the patient population that we serve. If we look at the community we serve, we have a diverse population that's coming into this organization," he said. "It is a business imperative for us to make sure we have an understanding of diversity — that we embrace it and that we not only talk about it, but also that we be about it, that we live it."
At its very core, Knowles said his job, while challenging, is quite simple and comes back to the basics he learned so many years ago on the field.
"We try to make things better for our patients but also for our employees, consistent with our value statements. I'm a ballplayer in my heart and it's all about team," he said.