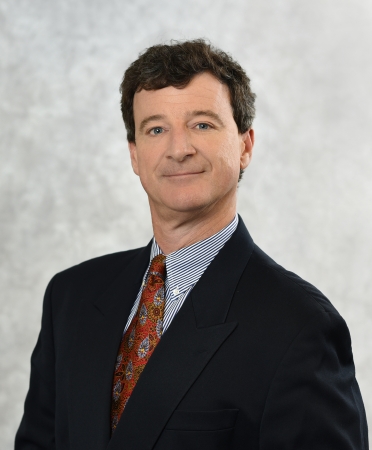 Austin, Texas (July 26, 2021) — Texas Healthcare Trustees presented the Advocate of the Year Award to Paul W. Detwiler, M.D., immediate past chair of the board of trustees of UT Health Tyler. This honor is bestowed to a hospital board member who displays outstanding advocacy efforts on behalf of a hospital or health system.
"This is a much deserved award for Paul. He's done so much for our region, for our community, for our university," said Dr. Kirk A. Calhoun, chairman of the board of UT Health East Texas and president of The University of Texas at Tyler.
Dr. Detwiler is a neurosurgeon trained at the Barrow Neurological Institute in Phoenix. He chairs the Physician Leadership Council – a group of physicians representing primary specialties who meet monthly to discuss hospital operations – at UT Health Tyler. Dr. Detwiler serves as the Chair of the Physician Roundtable of Ardent Health Services, which brings physicians together from hospitals across the country. Dr. Detwiler began his third year as Chairman of UT Health Tyler in July 2020.
"It's really about a team. He brings people together, he listens, he acts, he's patient, he's kind and above all else he has a vision that is a shared vision by the institution and the region at large," said Dr. Julie Philley, executive vice president for health affairs at The University of Texas Health Science Center at Tyler, who assumed the UT Health Tyler board chair position July 1.
In addition to serving on the board, Dr. Detwiler is on the medical staff at UT Health Tyler. He is on the front lines with nurses and doctors, caring for his patients and advocating for his peers. He visits with staff daily, asking, "How can I help you today?"
"Dr. Detwiler has numerous leadership qualities and the most important in my opinion is listening," said UT Health Tyler CEO Vicki Briggs. "There's not anyone I can point to that is stronger in his advocacy for people, for relationships and for doing the right thing."
Dr. Detwiler exemplifies leadership through his relationships with hospital staff and his commitment to advocating for access to high-quality healthcare. Dr. Detwiler's tireless advocacy to improve and extend healthcare services and medical education in East Texas serves as a model and inspiration for trustees.
Dr. Detwiler's broad vision and advocacy led to expanded residency programs at UT Health Tyler. He brought physicians together to hear their thoughts on moving from a community hospital model to a teaching hospital model. Through his leadership, UT Health Tyler launched a residency program in July 2020.
"Everything he has done over the past year or two has gotten us to the point where we are today, where the Legislature just approved a medical school for Tyler, which is a huge undertaking, and huge for all of Northeast Texas. Paul has played an integral part of all of that," said Kevin Eltife, board chairman of The University of Texas System Board of Regents.
About Texas Healthcare Trustees
Texas Healthcare Trustees is a statewide association whose members are Texas hospitals and health systems and the 3,000 board members who govern those organizations. THT believes a knowledgeable board member means enhanced leadership. As an organization we work to provide top-tier education, resources and leadership development opportunities to trustees. THT is the oldest trustee organization in the country, founded in 1961, and is affiliated with the Texas Hospital Association. Learn more about THT at www.tht.org.