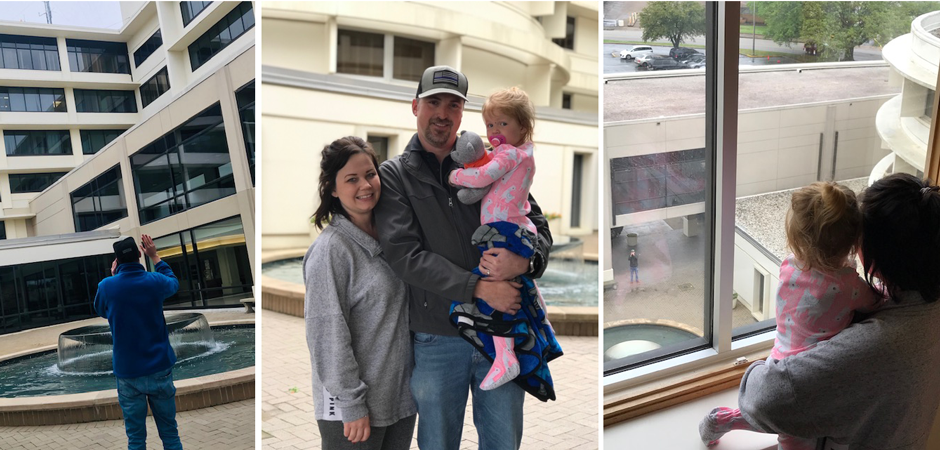 One local family found a way to stay connected while their daughter was treated at UT Health Tyler.
While his 2-year-old daughter was being treated at the hospital, Ben would stand outside the front of the hospital and talk to her while she waved down from the window above.
The hospital is limiting visitors due to COVID-19, and pediatric patients are allowed to have one family member stay with them. Mom Christy decided to stay at the hospital, so Ben returned home to care for the couple's two sons.
They realized during one of Ben's first trips up to the hospital to bring Christy a change of clothes, which nurses delivered to her, that they could see him from the window as he walked up to the hospital. That gave the family the idea to let their daughter talk to daddy – waving and gesturing from below -- as she watched him from the window.
"She was so overwhelmed with joy, she just loved it," said Megan Griffin, RN. "She waved and laughed and screamed and beat on the window. It was so cute."
Christy said their daughter's hospital stay was difficult because her family has never been apart, but seeing her husband from the window and putting him on speaker phone so their daughter could talk to him helped.
"She talked to him for a bit, blew him kisses and told him 'bye' at the end," Christy said. "It was emotional for me, I teared up."
Ben said he felt helpless not being able to be with his daughter and he wanted her to know that he was there for her. Seeing her in the window and hearing her on the other end of the phone line lifted his spirits.
"I'm just relieved that she felt that good that she was at the window," Ben said. "It made me feel like we were that much closer to going home."
The family is back together again after leaving the hospital on Sunday.
"While this was a hard time for our family, I feel it drew us closer. It made us realize the sadness some families are faced with day after day," Christy said. "It has made us hug each other tighter and thank God for the blessings He has given us."
Christy said she is grateful for the UT Health Tyler nursing staff, who were extremely helpful during their stay.
"They went out of their way to make things less stressful for us," Christy said. "Their care made a very difficult time a lot easier for our family."