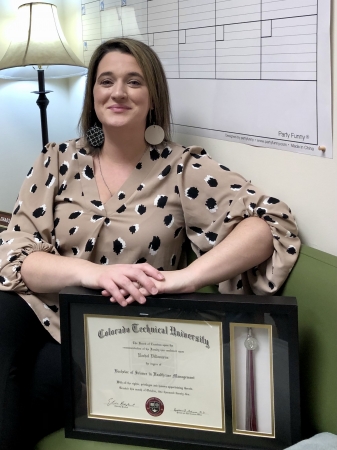 After completing her Bachelor of Science in healthcare management, Rachel Villanueva, pediatric clinic manager for UT Health East Texas Physicians on Fifth Street, was planning on finally relaxing after earning her degree, several years in the making.
"I thought I was done with school," Villanueva recalled with a chuckle just days after applying for a master's of health administration program at The University of Texas at Tyler. "I was like, 'When this bachelor's degree comes through, I am done!'"
But Villanueva changed her mind after benefitting from UT Health East Texas' tuition reimbursement program, available to any full-time employee who is taking academic courses in an accredited degree-seeking program related to the employee's line of work and to any part-time employee in degreed nursing programs.
When she applied for the tuition reimbursement program during her final online semester at Colorado Technical University and saw how easy the process was, Villanueva said she started to seriously consider her clinic administrator's suggestion that she pursue her master's degree for career growth.
"I was immediately like, 'I can make this work,'" she said.
Villanueva's higher education journey wasn't always a smooth one. Years ago, she began pursuing a degree in education but had to leave school and entered the medical profession out of necessity. At the time, Villanueva's young son was in the process of being diagnosed on the autism spectrum. As a single mom, she needed her days free to take him to doctor's appointments, so she started working part time on the night shift as a registration clerk in the Athens emergency department.
She stayed in the Athens emergency department for several years before moving to the Cedar Creek Lake and then Jacksonville facilities. When a supervisor position came open in Jacksonville, Villanueva inquired about applying but then found out one of the position requirements was a bachelor's degree. She knew she needed to go back to school and changed her major.
"Healthcare had become a full-blown career that I became passionate about. I really wanted to be on the administrative side of healthcare. That's where my heart is," she said. "So I went back to school, and within two years graduated with my bachelor of science in healthcare management."
Villanueva said UT Health East Texas has given her the support and encouragement to continue pursuing her education and career goals.
"I love my job and the people daily, but having a company that pushes for you to further your knowledge and skillset reminds me how UT Health East Texas takes care of us," she said. "My organization wants to see me grow and finish my degree and be the best version of myself, and they're going to mentor me to grow and succeed."
Leah Dixon, COO of UT Health East Texas Physicians, said employee growth is at the core of the culture at UT Health East Texas Physicians.
"We are about helping our employees not only succeed, but thrive in their careers," Dixon said. "The UT Health East Texas mission is to care for our patients, their families and each other. We see encouraging and supporting career growth as one of the ways we can take care of our employees."