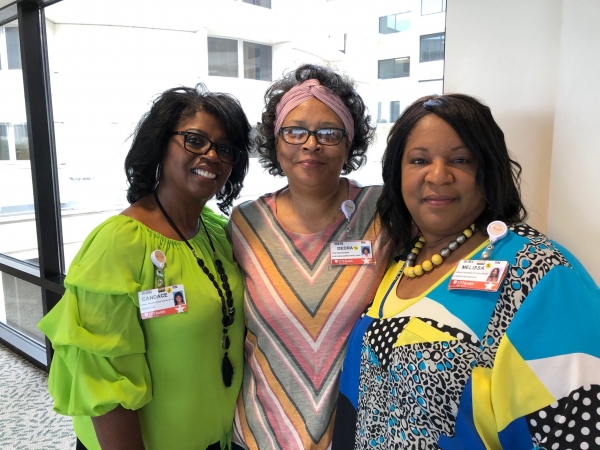 The longtime friendship shared by three caregivers at UT Health Tyler has brought them both personal and professional satisfaction as well as a deep system of support in the workplace.
Their friendship began decades ago when Dedra Murphy was working as a nurse manager at another hospital and hired Melissa Williams and Candace Hudson. Although both Melissa and Candace left that facility in 1991 to start working PRN at the Tyler hospital, they kept in touch with Dedra, who they both describe as the most influential boss they've ever had.
They would often call her when they had a question or needed advice, and she remained a mentor in their lives.
"She managed, mentored, molded and prepared us for what I call 'the realities of nursing,'" Melissa says. "Our friendship has included being bridesmaids in weddings, sharing in the births of our babies and even in being present for each other during difficult times such as the loss of beloved family."
The three were reunited in the workplace when Dedra joined them at the Tyler hospital in 2003. They've since changed roles, with Dedra now a certified case manager, Melissa working in nursing informatics and Candace in clinical documentation improvement.
Nowadays they don't find much time during their busy workdays to see each other, but they keep in touch.
"Birthday greetings, Christmas cards and remembering Dedra every Boss's Day are always acknowledged," Melissa says.
Candace said their bond is strengthened by their shared experiences as nurses.
"You've got that support and that understanding from a fellow nurse. Nurses see things differently than other people. You can always go to them and get good advice from them," Candace said of her friends.
While they've celebrated professional successes, they've also marked personal milestones together as well, and they all agree that their friendship is at a point now where it doesn't take much maintenance.
"We stay in touch with one another. We see each other from time to time," Melissa says. "It's kind of one of those friendships that as you get to a certain age, you just have that and it doesn't take a lot of hand holding."
The women agree that having such a solid friendship in the workplace has been a blessing.
"We're all women of faith and for me that is critical. We pray for each other, and that's just so special," Dedra said. "I'm just thankful, blessed, overwhelmed and overjoyed by the friendship."