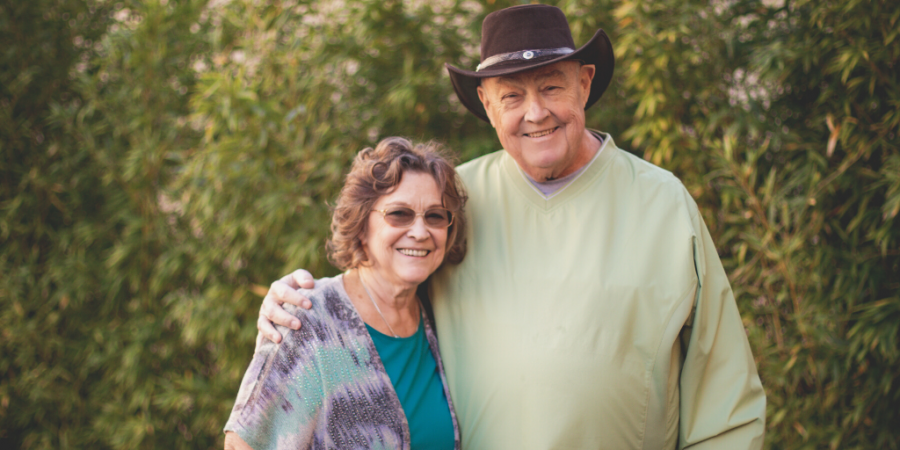 Heartache often is a part of life. Brent and Donna Holt of Palestine have experienced heartaches, but not the kind you might think. Both have experienced heart valve disease, but like many loving couples, they pulled together to conquer it.
Brent's journey started in February 2018 when he was diagnosed with myelodysplastic syndrome (MDS), which is considered a type of cancer in bone marrow that can progress into leukemia. This made Brent very weak and tired.
"He could barely walk across the room without gasping for air," Donna said.
By July 2019, he was showing signs of atrial fibrillation (AFib). AFib is an irregular heartbeat that if left untreated, can lead to blood clots, heart attack and stroke. He was referred to Dr. Vivek Patel, a cardiothoracic surgeon at UT Health Tyler.
"He had severe mitral regurgitation that made his valve 'leaky' and blood would back up into his lungs, making breathing very difficult," Dr. Patel said.
Dr. Patel was working on a new procedure, the MitraClip. This is a non-surgical, minimally invasive valve repair procedure, recommended for patients who are too high-risk for surgery.
"It involves repairing the mitral valve by a percutaneous approach," Dr. Patel said. "That is, going through a blood vessel from the groin, and applying a clip to allow the valve to work better and not leak."
This procedure was chosen for Brent because his other health conditions would have made surgery and the recovery process too risky.
Brent was scheduled to have his procedure in October 2019. However, in September, Donna went in for a routine checkup, and though she didn't have many symptoms other than feeling tired, she was diagnosed with a heart murmur and referred to Dr. Patel.
"I'd never had a heart murmur before," Donna said. "I'd always been in pretty good shape. This was just a routine visit. It was interesting that I suddenly had this, because I'm the healthy one."
"She had severe mitral valve regurgitation caused by degeneration of the mitral valve leaflet tissue," Dr. Patel said. "Untreated, this condition puts a great deal of strain on the heart and lungs, eventually leading to heart arrhythmia and heart failure. If treated in time, one can expect to regain normal heart function for a long period of time."
On Oct. 9, Donna underwent mitral valve repair surgery.
"Surgery has been a durable approach for decades, and remains the most reliable approach with minimal risk in patients who are candidates for surgery," Dr. Patel said. "Minimally invasive surgery has allowed her to return to normal life faster, and is an excellent approach in patients with an active lifestyle."
Just three weeks later on Oct. 30, Brent had the MitraClip procedure.
"He was the first patient in Tyler to undergo this procedure, previously only offered in select medical centers," Dr. Patel said. "We strive to remain on the cutting edge of cardiac care for the people of East Texas."
The procedure was a success for Brent and he immediately noticed a difference.
"The second I woke up, I felt a thousand percent better," Brent said. "I could breathe. Everything was clear. I felt like I could have just gotten out of bed and gone home right then compared to how I felt the day before."
Brent went home the day after his procedure with no pain medication.
"I had no pain or discomfort. Other than a little bit of a scratchy throat, it was like nothing had ever happened, except I got better."
Knowing Brent's condition and having been through surgery just three weeks before, Donna was glad the MitraClip procedure was an option.
"He could not have had a surgery like I did," Donna said. "I think it's incredible that they can help people like that."
"The decision to perform the mitral clip is made by a team of specialists who evaluate the patient and valve anatomy," Dr. Patel said. "These include cardiologists, cardiac surgeons, cardiac imaging specialists and other healthcare providers familiar with the patient's other diseases."
In this case, the team consisted of Dr. Patel, Dr. Andrea Cooley, cardiothoracic surgeon; and cardiologists Dr. Brent Davis and Dr. Ajay Pachika.
Since the procedure, Brent's health has continued to improve.
"It was the most amazing thing not to have pain and then over two to three months get better and better," Brent said. "Prior to the mitral valve, I was having a terrible time sleeping. I would go to bed at 9 and sleep until 11 or 11:30 and would be up until 4:30 in the morning. I could not go back to sleep because I was so uncomfortable. That pretty much went away."
Both Brent and Donna are continuing to recover through cardiac rehabilitation, which includes exercise sessions three times per week.
Though heart disease isn't something anyone hopes for, Brent and Donna tackled it together.
"It gives us something in common," Donna said.
Since Donna had her surgery three weeks before Brent's procedure, she had to rely on him for help with day-to-day tasks during her recovery, even though he was still sick.
"I was starting to feel guilty once I got home waiting for his surgery because I felt like he was too tired to do things like putting the dishes in the dishwasher, but I couldn't do much at all. I haven't had to be taken care of like that. It's good for us."
The couple is grateful for the care they received from Dr. Patel and his team at UT Health Tyler.
"They were a lot of fun," Donna said. "They were great and very knowledgeable."
Brent appreciated the time they dedicated to them.
"They were never in a hurry," Brent said. "They took all the time we needed, probably more than what I would have expected."
Dr. Patel is pleased with the results in both cases.
"I'm happy to help improve the lives of East Texans with exceptional cardiac care," Dr. Patel said.
The Heart Valve Center at the UT Health East Texas Cardiovascular Institute was created to treat and diagnose heart valve disease, in addition to raising awareness of a condition that is often overshadowed by other cardiovascular problems. For more information on heart valve disease and treatment for other heart conditions, visit UTHealthEastTexas.com/HeartCare. If you are experiencing symptoms of a heart attack, call 9-1-1 immediately.

This story was featured in the Tribute to Courage section of the February/March TYLER TODAY issue.