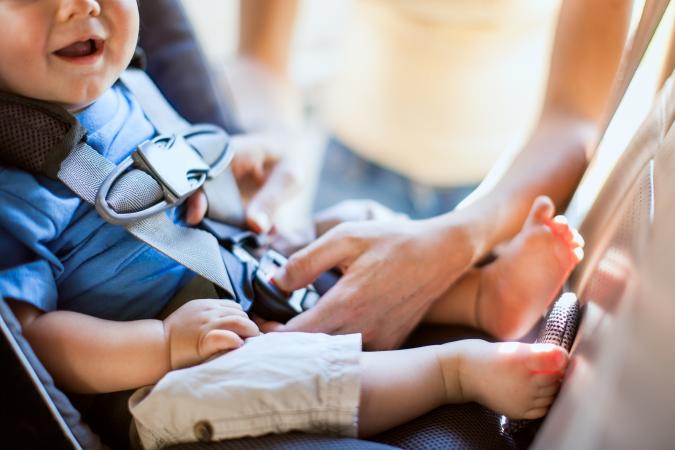 Everyday children are driven to school, to a friend's house or to grab an ice cream cone. Travelling in a car is an inevitable part of family life, which is why it's crucial to make your vehicle a safe space for your child. The best way to protect children in the event of a wreck is to have them in a proper car seat. However, even with a car seat, there is confusion about which is the right type, how a child should fit in the seat and how it should be installed in the car. It's easy to get overwhelmed, but getting in touch with a certified car seat technician can help ease your mind when it comes to child passenger safety.
Vicky LaMay, outreach education specialist with UT Health East Texas EMS, has been a certified car seat technician since 2008. Becoming certified requires a four-day course, which involves classroom lessons and hands-on training. "I wanted to help keep kids safe," Vicky says, regarding her choice to earn certification. "As a paramedic I've been to motor vehicle collisions in which kids have been ejected and nobody wants to see that. This is something I can do to be proactive about kids' safety." She, and coworker, Greg LaMay, volunteer their time to help parents fit children securely in car seats and make sure they know exactly how to install car seats.
Even without getting checked by Vicky and Greg, you can make sure your children are staying safe by following these safety tips:
Law vs. Best Practices
The car seat laws in Texas serve as a good baseline for safety, basically stating that manufacturer's recommendations should be followed. They give guidelines of when to graduate children from one style of seat to the next. However, Vicky's training has shown her that there is more you can do to keep children safe. "Best practices go beyond the law to recommend what is safest for the child." There are differences in how children fit into seats and even differences in cars that could impact the effectiveness of a seat." This possibility of variation makes it a good idea to thoroughly check to make sure your child fits properly in their seat.
Getting Seats Checked
If you aren't quite sure about the fit or position of your child's seat, it's a good idea to go have everything checked out by a certified car seat technician. Safe Kids sponsors events where you can have everything checked, but UT Health East Texas EMS also provides free checks via appointment. "You can fill out information on the website and enter your child's weight and height, as well as the type of car seat they have," Vicky said. "Then I can do a pre-check and see if there are any recalls on the seat."
During these checks, which take a minimum of 30 minutes, the technician will first make sure your child fits properly in the seat, adjusting straps and measuring the space of protection around the child. After it's clear the child fits in the seat, the technician can go on to show how to correctly install the seat in the car. "You have to make sure the car seat is sitting at the proper angle," says Vicky. "And they shouldn't move more than an inch in any direction."
Choosing a Seat
If you go to any retail store with car seats you might be confused over why there are so many options. Is one safer than the other? Can I make a poor choice? The answer is no; one car seat is not safer than another. "A $20 car seat versus a $300 car seat is not a difference of safety," says Vicky. "They've both been crash tested and they all have to be certified." So, the price difference isn't about safety, rather it's a difference in comfort. Higher priced car seat may come with additional padding and be more cushioned. Higher priced ones also may last longer than less expensive options, which may be a consideration since car seats do have an expiration date.
No matter the choice, make sure to register your car seat, so the manufacturer can get in touch with you in the event of a recall.
Transition Time
As your child grows taller and heavier, they will need to transition car seat types to stay safe. Each seat will come with recommendations on when it is best to graduate your child, but switching at the first possible chance may not be the best option. "A lot of parents change from a rear-facing seat when their child reaches one year, but that's not the safest position," warns Vicky. "They should be rear-facing as long as possible, mainly because their neck muscles aren't fully developed. Their heads are really heavy and they can end up with a severe spinal injury, if in the wrong seat."
Parents also make this error again when switching from a front-facing car seat to a booster seat. A seat belt is easier to deal with than a five-point harness, but kids can become irritated with a belt and place it under their arm or behind their backs, making them vulnerable during a collision. Resist the impulse to switch as soon as possible and wait until a child has outgrown their car seat.
Tip: The safest spot for a car seat is in the back middle. There, your child will have 360 degrees of protection.
Dangerous Accessories
You like to keep an eye on your kiddo in the rear-facing car seat, but placing a mirror between the child and the seat can be dangerous. "The way a car seat is designed for a crash is, if it needs to, it can fold back into the seat," says Vicky. "Well, if there's a mirror right there, they can hit their face on the mirror rather than the cushioned seat." You also create an untested obstruction if you add toys to the car seat. "Unless an accessory came with the seat or it was made by that seat manufacturer specifically to be used with that seat, then it hasn't been crash tested and we don't know how it's going to do in a crash. It may not protect the child and it may injure them."
Another consideration is bulky clothing. In the winter, you may bundle children up in puffy coats or thick layers, but these create barriers between the child and the belt, making the car seat fit improperly. The car seat straps should fit snugly against a child for optimal protection.
Riding in an automobile is a part of everyday life. As a parent, you have a responsibility to keep your children as safe as possible while in the car. You can do your part by registering your car seat and asking a certified car seat technician about any concerns you may have about fit or installation.
---
To set up a car seat check appointment, please email Vicky LaMay at vglamay@uthet.com