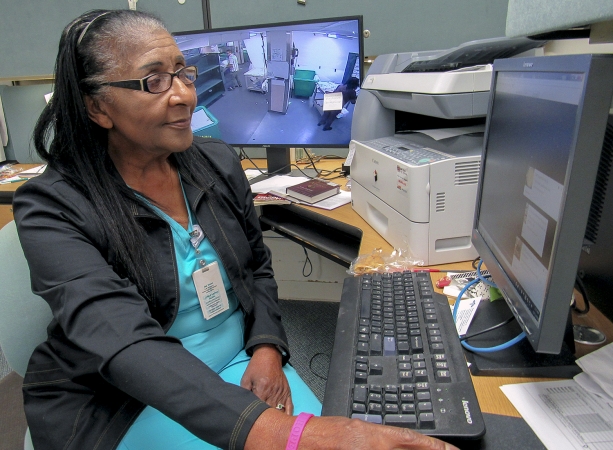 After more than 50 years working for the hospital, now known as UT Health Tyler, Julia Bell is now retiring but she has no plans of slowing down.
Bell started at the hospital in November 1964 as a nurse aid and later moved into in laundry services, where she spent the majority of her career. She retired last Friday as Director of Laundry Services.
"There's been a lot of changes because when I first came it was just two floors," Bell said. "I've seen it grow and grow and grow."
Bell, 76, is used to working hard. The mother of eight routinely rises at 4 a.m. and is no stranger to 10- and 12-hour work days.
"My children say, 'Mom, you need to retire,'" Bell said. "I have one daughter that says, 'I wish I was 65, I'd be out of here just like that.' But no, I'm not a sit down person."
Her daughters agreed with that assessment, saying they don't expect her to be idle in retirement.
"She doesn't want to give it up. It's going to be hard to see her at home because she's not used to being at home," daughter Gina Franklin said. "She's used to working all the time. We'll have to find her another hobby."
They might not have to look too hard, as Bell already has plans for post-retirement.
"I want to keep moving around," she said. "I think I want to be a Wal-Mart greeter, that's because I like people. I like to see their smiles so that's what I want to be."
She cited smiles – and the people wearing them – as the best part of her job at UT Health Tyler.
"If I see someone that's smiling, it's just a pleasure to see people smile and that they're happy," Bell said. "I've just enjoyed it all these years I've been here."
Linda Calico, assistant supervisor in the laundry department, said Bell was easy to work for and had a great attitude.
"She's always trying to help make things comfortable as far as working," Calico said. "She's a great person all around."
Calico also is retiring, having served 31 years in laundry services.
"We're like a family in this hospital," Calico said. "Most of them we know, most are real nice and enjoyable, that's what I'm going to miss the most."
UT Health Tyler honored both women last Thursday with a reception for their years of combined service to the hospital.