Answer the Call. Come to East Texas.
UT Health East Texas EMS is currently hiring paramedics and EMTs in the heart of the piney woods of East Texas. UT Health East Texas EMS responds to over 60,000 emergency calls a year and is the only ambulance service accredited by the Commission on Accreditation of Ambulance Services in the region. Plus, UT Health East Texas has eight hospitals across East Texas, so you are never too far from care.
Career development opportunities across UT Health East Texas from EMT to paramedic and registered nurse.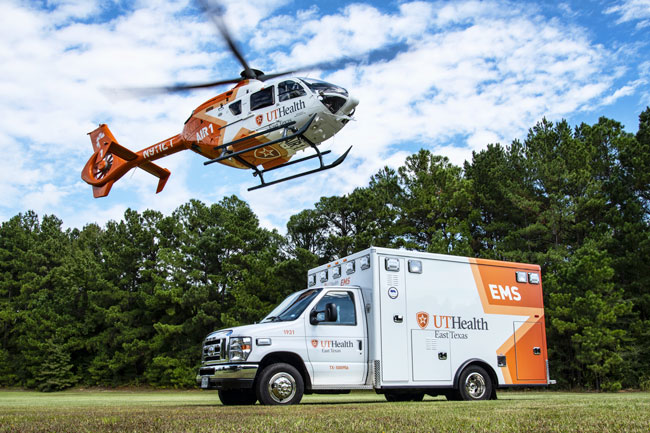 Benefits include:
$7,500 Sign-On Bonus
Market Leading Salary
Flexible Insurance Plans
401(k) Retirement Program
Paid Time Off / Extended Sick Time
Paid Continuing Education
Up to $5,000 Relocation Bonus
MAJOR DUTIES AND RESPONSIBILITIES:
Prompt and regular attendance at work.
Effectively follow all UT Health East Texas EMS policies, procedures, guidelines and chain of command.
Maintain all required certifications according to company policy.
Attendance at all Continuing Education (CE) courses as policy dictates.
Conduct self in a highly ethical and professional manner projecting a positive company image while maintaining a neat and professional appearance at all times in accordance with company policies.
Maintain a positive, professional, and cooperative working relationship with physicians, nurses, public safety agencies, the general public, allied health professionals, and other members of our EMS system. 
Assess and treat any medical situation with appropriate techniques (resources and equipment) while maintaining the highest standard of patient care and professionalism according to current company standards.
Follow medical care practices as documented in UT Health East Texas EMS Protocols and mandated by the Medical Control Board. The scope of medical practice will be confined to medical practice as defined by the Department of State Health Services (DSHS), unless otherwise specified by directives or protocols from the Medical Director.
Complete all documentation regarding patient care and billing information in accordance with company policy.
Maintain thorough knowledge of the ambulance and equipment, its function and use and reporting any malfunction or damage to equipment promptly in accordance with company policy.
Maintain the ambulance in a clean, organized and response ready mode.
When assigned as an Operator/Driver, will be responsible to operate the assigned ambulance under control at all times and in accordance with all federal, state, and local laws that govern ambulance operation, and in accordance with approved company policy and safe and efficient ambulance operation.
Responsible for safe handling of patient transport during loading and unloading, transport on stretcher, and actual transport on the ambulance.
Function as Incident Commander and be able to set up incident command when necessary.
Perform other such duties as may be required or directed. 
Paramedics are accountable for responding to all assigned calls in the most appropriate, efficient manner and providing the highest standards of patient care while keeping a safe and hazard-free environment. The Paramedic works with an EMT on an MICU ambulance and contributes to overall patient care in the areas of patient assessment, triage, packaging and transport according to protocol.
Experience:
Working knowledge of English grammar, spelling and usage is required
Excellent, positive interpersonal/communication skills
Ability to read/write
Ability to follow oral and written instructions
Self-motivated efficient work habits
Work well in a team
Provide positive customer service
Subject to many interruptions
Frequent exposure to a variety of elements including cleaning supplies
Exposure to patient with various ailments and from various socioeconomic backgrounds.
Understand and adapts service techniques based on patient age and cultural background.
Search Paramedic Careers
EMS Quick Facts:
EMS headquarters is located in Tyler, just 88 miles east of Dallas and 90 miles west of Shreveport.
Ground coverage area is more than 3,303 square miles.
Coverage area includes a population of more than 393,659 residents.
East Texas is a place for families to grow roots with multiple opportunities to advance in the medical field. UT Health East Texas EMS is at the forefront of emergency services. It's a small town with a big city feel.
It's the most rewarding job you'll ever have, in the best part of Texas so come be a part of the team answering the call in the fastest growing area in East Texas. Relocation assistance may be available.