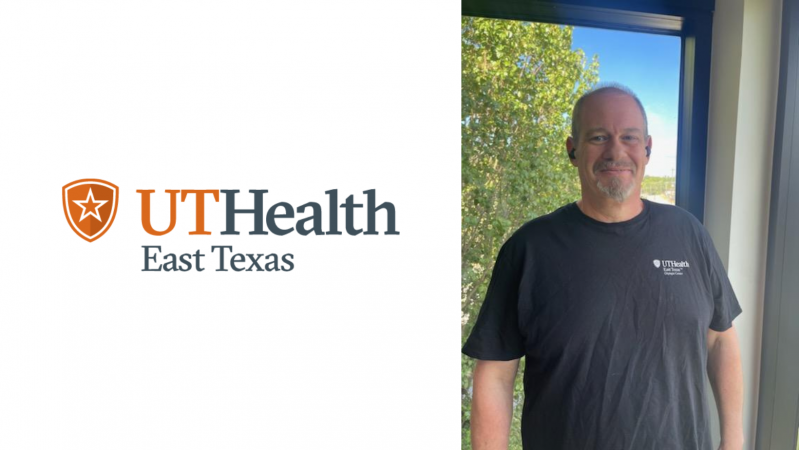 When Mike Stephens was diagnosed with diabetes, his physician, Dr. Christine Powell, told him he needed to make some serious lifestyle changes. As a way to hopefully get Mike started down the right path, Dr. Powell referred him to the UT Health East Texas Olympic Center's Exercise is Medicine program. After his initial two-week free trial in the program, Mike decided to join the Olympic Center. As part of his healthier lifestyle change, Mike not only made exercise part of his routine, but started eating a healthier diet, as well. These changes started to make a positive impact on his overall health. Mike's cholesterol, blood pressure and diabetes metrics were all starting to improve.
Unfortunately, in early 2022, Mike ended up having a heart attack and had to have stents put in. Dr. Powell and her nursing staff credited Mike's heart attack to the years of an unhealthy lifestyle prior to his recent healthy changes, but stated that his improved health helped reduce the enormity of the event and would greatly assist with his recovery efforts.
 
After Mike's heart attack, he was referred to the Pritikin Intensive Cardiac Rehab Program at the UT Health East Texas Rehabilitation Center. Mike transitioned back to exercising at the Olympic Center after his successful graduation from the Pritikin program. He is back on a regular cardiovascular and strength training program at the Olympic Center. He also can be seen as a regular in yoga class.
 
Mike states he keeps coming back to the Olympic Center because of his desire to live a healthy lifestyle, and the wide range of group fitness classes offered, such as yoga and water fitness classes. Mike loves that the Olympic Center is a big facility packed with equipment and has a pool. His favorite things are the members and the Olympic Center's fully trained, friendly staff. He feels like he is surrounding himself with the best possible resources to help him live longer.
 
We look forward to Mike's continued health and fitness journey, and are happy we can be a part of it.
 
For more information about the UT Health East Texas Olympic Center visit uthealtheasttexas.com/services/fitness For more information about the Pritikin Intensive Cardiac rehabilitation please visit uthealthrehab.com/services/pritikin-intensive-cardiac-rehab.