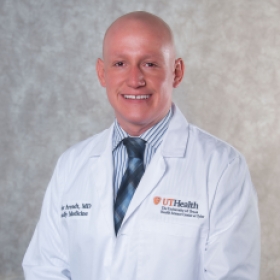 4.5 out of 5
Physician Group:
UT Health East Texas Physicians
Practices At:
Hours:
Monday - Friday
8 a.m. - 5 p.m.
Tyler Arendt, MD, is a board-certified family medicine physician at UT Health East Texas Physicians in Flint. "My care philosophy as a family medicine physician revolves around three main beliefs. I believe we should uphold our patient's autonomy to the upmost respect. Workup and treatment vary among patients and should be tailored by medical evidence, as well as the patient's wishes and beliefs. Furthermore, I believe that caring for patients today is best done as a team. I strive to learn from and utilize the knowledge and expertise of other professionals in the medical community to care for patients. Lastly, the most important contribution of family medicine physicians is in the prevention, screening and early recognition of devastating diseases."
Dr. Arendt wanted to work in healthcare because "it intricately combines my interest in science with the ability to provide a service for the betterment of humanity." Dr. Arendt has training in a broad scope of medicine, but his personal interests are in preventative medicine, care of the geriatric patient and acute care medicine.
Board Certifications:
American Board of Family Medicine, Board Certification
Education:
Residency: Family Medicine, The University of Texas Health Science Center at Tyler
Doctor of Medicine: University of Texas Southwestern Medical Center at Dallas
Bachelor of Science: Molecular Biology, The University of Texas at Dallas
Bachelor of Science: Business Administration, The University of Texas at Dallas
American Academy of Family Physicians: Member

Smith County Medical Society: Member

American Medical Association: Member

Texas Medical Association: Member