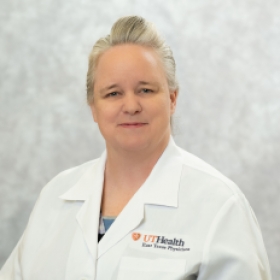 3.9 out of 5
Physician Group:
UT Health East Texas Physicians
Practices At:
Hours:
Monday - Friday
8 a.m. - 6 p.m.

Tonya Youngblood, MD, is a board-certified family medicine physician who practices at UT Health East Texas Physicians in Pittsburg. Dr. Youngblood enjoys getting to know and care for all the generations in a family of patients. "It's very satisfying. It allows me to take care of everyone better by knowing the family dynamics."
Pursuing a career in medicine was an easy choice for her, as she knew she wanted to be a doctor since she was a child. "The main thing was to be able to help people."
Dr. Youngblood explains how patients have to go back to the basics of eating a balanced diet and getting adequate sleep and exercise in order to maintain their health. After these basics, she encourages patients to continue seeing their primary care provider for annual preventive exams and testing to maintain good health. Dr. Youngblood also conducts Department of Transportation (DOT) Physical Exams.
Board Certifications:
American Board of Family Medicine, Board Certification
Amercian Board of Family Medicine, Hospice & Palliative Care, Board Certification
Education:
Family Medicine Residency, University of Mississippi Medical Center, Jackson, MS
Family Medicine Internship, University of Mississippi Medical Center, Jackson, MS
Doctor of Medicine, Texas A&M University Health Science Center, Bryan
Texas Medical Association, Member
American Academy of Family Physicians, Member