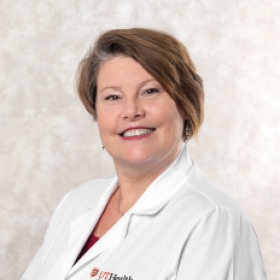 3.6 out of 5
Physician Group:
UT Health East Texas Physicians
Practices At:
115 Medical Cir., Ste. 103

Teri Lynne Baumgartner, MD, is a board-certified obstetrician and gynecologist (OB-GYN) who practices at UT Health East Texas Physicians in Athens. "I chose this field because I am a nurturer. I love helping patients and their families. I want to make a difference in my community and provide quality care.
"I enjoy taking care of women and OB-GYN allows me to do that. I have a passion for procedures and this field encompasses surgery, delivering babies, doing sonograms and in-office procedures. It is so rewarding to help make a difference in women's lives. I feel blessed to be a part of bringing new life into the world."
Several members of Dr. Baumgartner's office staff are fluent in Spanish and can aid in translation.
When not seeing patients, Dr. Baumgartner enjoys arts and crafts, gardening, reading mystery and suspense novels, scuba diving and hiking. She lives on a farm and enjoys taking care of her animals as well.
Board Certifications:
American Board of Obstetrics and Gynecology, Board Certification
Education:
Residency: Obstetrics and Gynecology, Lyndon Baines Johnson Hopital, Houston
Doctor of Medicine: University of Texas Health Science Center, Houston
Bachelor of Science: Texas A&M University, College Station