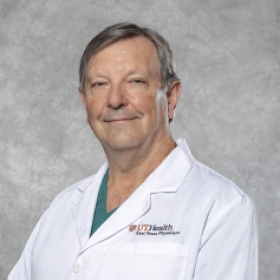 4.7 out of 5
Physician Group:
UT Health East Texas Physicians

Roger C. Sessions, MD, is a board-certified orthopedic surgeon who along with the staff at the UT Health East Texas Physician clinics in Henderson and Jacksonville, are pleased to be able to make a difference in the lives of their patients. "We've always tried to provide the most up-to-date care possible, but in a small-town atmosphere, so folks can stay near home to get their orthopedic care."
Dr. Sessions finds fulfillment in helping people recover from injuries and fractures, and he takes particular interest in the senior population. "What I enjoy the most is being able to use joint- replacement surgery to change the lives of people who are suffering terribly from arthritis. It's just a real blessing."
Computer navigation, one of the latest surgical innovations available at UT Health East Texas facilities in Jacksonville and Henderson, is being used by Dr. Sessions to aid in knee-replacement procedures. "Computer navigation is becoming the standard of care for knee-replacements, and fortunately we've been able to get the support from UT Health East Texas to do surgery this way. Services like these have really improved the care we can provide."
Dr. Sessions received his bachelor's degree in zoology from Texas A&M University, College Station, and his doctor of medicine from the University of Texas Medical Branch in Galveston.
Board Certifications:
American Board of Orthopaedic Surgery, Board Certification
Education:
Orthopedic Internship and Residency: Scott and White Memorial Hospital, Temple
Doctor of Medicine: The University of Texas Medical Branch, Galveston
Bachelor of Science: Zoology, Texas A&M University, College Station
American Academy of Orthopaedic Surgeons, Member
American Medical Association, Member
Southern Medical Association, Member
Texas Medical Association, Member
Texas Orthopaedic Association, Member
Rush County Medical Association, Member
University of Texas Medical Branch and Texas A&M University, Honors Graduate