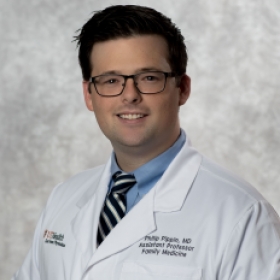 Physician Group:
UT Health East Texas Physicians
Practices At:
Hours:
CVICU
10 a.m. - 12 p.m.
4 p.m. - 6 p.m.
8 p.m. - 9 p.m.
2WB, 3WB and 3WC ICUs
10 a.m. - 6 p.m.
8 p.m. - 6 a.m.
Closed 6 a.m. - 10 a.m. & 6 p.m. - 8 p.m. for personal care
General visiting hours
6 a.m. - 9 p.m.
Dr. Philip Pippin is a family medicine physician who cares for patients of all ages in the main campus Family Medicine Clinic. His special interests in medicine include treating hypertension and other chronic diseases. He completed the Family Medicine Residency Program here at UT Health where he was chief resident and resident of the year. Dr. Pippin enjoys teaching medical students and residents, but his real passion is helping patients understand their disease so they can feel empowered to make valuable decisions to improve their health.